Ben Wheatley had his biggest budget to date to create the dystopian world portrayed in JG Ballard's novel High-Rise. Michael Rosser speaks to the UK film-maker about his vision to "shoot on location in the past".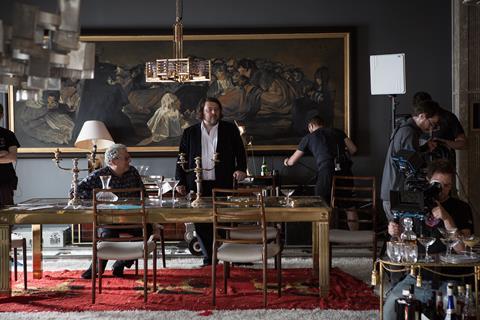 It has taken nearly four decades for the dystopian satire of J.G. Ballard's High-Rise to make it to the big screen.
The 1975 novel, about life in a modern tower block spiralling out of control, was first developed by producer Jeremy Thomas in the late 70s with Nicolas Roeg set to direct.
But despite never realising that vision, the project remained close to the heart of Thomas and has now been channelled through the dark prism of Ben Wheatley, the director behind twisted cult favourites Kill List, Sightseers and A Field In England.
The film, which receives its world premiere at the Toronto International Film Festival tonight (Sept 13), stars Tom Hiddleston as young doctor Robert Laing alongside Luke Evans, Jeremy Irons, Sienna Miller and Elisabeth Moss.
Produced by Thomas' Recorded Picture Company, backing comes from the BFI and Film4, with HanWay Films handling sales.
How did you come to High-Rise?
I saw it on my bookshelf and wondered why it hadn't been made into a film. A bit of exploring led me to Jeremy Thomas' door and the stars aligned. That week he'd seen Sightseers so a day or two's difference and it could have been a different story altogether.
How was the script developed?
There'd been scripts written and developed but we didn't look at any of those. [Scriptwriter Amy Jump] and me told Jeremy that we wanted to set it in the 70s and make it a period piece. Everyone else had tried to make it futuristic. We wanted to start with a clean sheet so we went back to the book. It mainly it was about compression, because there are so many characters and scope and we had a modest budget to achieve it.
How did Tom Hiddleston get involved?
Amy and I had a list of people we wanted and Hiddleston was at the top. It sounds like 'making of' puffery but it's true. We loved him in Joanna Hogg's films and the Marvel films so it was a no brainer.
Tom's a super-smart guy and had read tons of Ballard and interviews with him so he understood it inside and out. He's also a guy in the classic mould of a British film star: reserved, good looking and intelligent. There's a lot of emotion going on but it's all held back. He's emotionally smart and intellectually smart. That for us was the most exciting thing about him.
The thing that was different with this film was that a lot of the actors knew the work I'd done so the appetite was there. And the things that Tom, Luke Evans, Sienna Miller and Elisabeth Moss do in the film are extraordinary. Movie charisma is a thing to behold when you see it in the rushes.
What did you know would be the biggest challenges going into High-Rise?
Dealing with that many characters and that much art design and sets. We had £6m ($9.4m), the biggest budget I've been in charge of but still a tiny budget in the world of filmmaking. We laughed that we'd finally graduated to low budget filmmaking.
But we had a brilliant art department under Mark Tildesley and the design was cleverly done to maximise that cash.
How did you approach the set-building?
You try to make an environment where you're shooting on location in the past. It's just easier that way. When I work with Laurie Rose, the director of photography, you're trying to light in the round. I want that flexibility and it's to guard against it looking like a set. The apartments in High-Rise look like real places.
There's a lot of original design within the film, including every item in the tower block's supermarket.
We wanted to make a period piece but not a greatest hits of the 70s. It's an alternate reality. It was a real treat to have control of a whole world. I was involved in the designing of the book covers of the books in people's houses.
We didn't want to get into that world of nostalgic packaging because, first of all, it's a fucking nightmare to clear that stuff and secondly it's distracting. Depending how old you are, you're off on some nostalgia trip. We also wanted to have complete control of the colours.
Are you nervous about the world premiere?
Yeah, but not especially. You never really know which way it will go or take things for granted. That's when it bites you on the ass. But I always look forward to showing the film to lots of people at once and this has it all. It's a rollercoaster ride of emotions [laughs]. Drama, laughter, dancing, everything.