What do the cutbacks and restructuring at French media giant Vivendi mean for its film and TV arms, Studiocanal and Canal Plus, two of European film-making's biggest backers?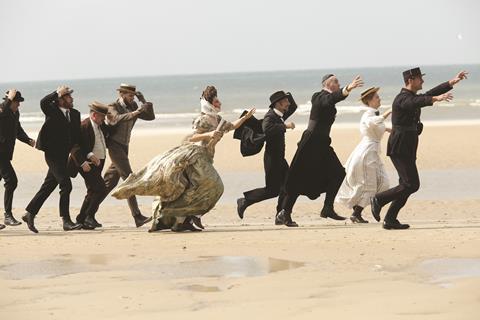 Cannes regulars may notice a few changes on the Croisette and around the Palais du Cinéma this year. Gone is the Canal Plus VIP lounge — a favourite portside haunt of stars and industry top dogs — as is the set of Canal Plus' popular chat show Le Grand Journal from the beach of the Hotel Martinez. French pay-TV channel Canal Plus, the festival's official broadcast partner for more than 20 years, has scaled back its presence in the face of escalating losses and falling viewing figures for the festival editions of Le Grand Journal. The annual Canal Plus party has also been cancelled.
It is the latest in a series of changes instigated by billionaire Vincent Bolloré, the biggest shareholder of Canal Plus' parent media conglomerate Vivendi, as he attempts to restructure the channel.
"Cannes is lovely in May — the sea, blue sky, patio and the olives. So when you say, 'Rather than 469 of you, just 50 will go,' you're not popular," Bolloré told shareholders at Vivendi's AGM in April. Actual coverage of the festival is set to remain intact and will comprise the opening and closing ceremonies, daily reports and the programming of several Cannes titles from the 2014 and 2015 editions, led by the pay-TV premiere of Mad Max: Fury Road.
But once France's undisputed pay-TV king, according to the presentation at the AGM, Canal Plus has lost more than one million subscribers since 2012 amid increased competition for sports rights from players such as Qatari-backed sports channel beIN, Patrick Drahi's Altice Group and Discovery. It is also feeling the impact of the rise of streaming services Netflix and Amazon Prime Video. Tough-talking businessman Bolloré went so far as to tell shareholders at the Paris AGM the group could not continue to prop up the channel indefinitely.
Canal Plus is vital to the French film industry and its closure would have seismic consequences. Under state obligations, the channel invests 12.5% of its turnover in the pre-acquisition of French and European feature films. According to France's National Cinema Centre (CNC), Canal Plus invested $173m (¤169.4m) in 113 majority French productions in 2015, which is 48.5% of the films the state body approved last year. It invested a further $10.5m (¤9m) in 15 minority productions.
From 2006 to 2015, Canal Plus supported 58.4% of approved French productions. Pre-buys premiering in Cannes include Bruno Dumont's Slack Bay, Alain Guiraudie's Staying Vertical and Paul Verhoeven's Elle, all in Competition, and Stéphanie Di Giusto's The Dancer, premiering in Un Certain Regard.
"If [Canal Plus] were to stop financing, there would be an explosion of films made for under $1.2m (¤1m)," says Slack Bay producer Jean Bréhat of Paris-based 3B Productions. He is sanguine about what that would mean. "We're always worried when there are changes at organisations that finance cinema but we must adapt to the changing market."
However, few believe Bolloré would even close Canal Plus. Some suggest his comments were a lobbying tactic aimed at French regulators, who are examining a five-year deal between Canal Plus and beIN, under which Canal Plus would exclusively distribute its sports content. It is a key part of ­Bolloré's strategy to win back subscribers.
"I don't think they'll shut it down. It's a national institution, more than Sky is in the UK, because its roots are as a premium channel rather than as a pay-TV operator," says Conor O'Shea, head of media sector research at Paris-based European financial services company Kepler Cheuvreux.
O'Shea suggests Bolloré's commitment to the creation of audiovisual content out of France and Europe goes beyond pure business thinking. "He's a patriot. He doesn't want his grandchildren growing up just on US fiction."
Importance of cinema
Speaking to Screen International on the eve of Cannes, Didier Lupfer, director of cinema for Canal Plus and CEO of Studiocanal, ­reaffirmed the importance of cinema within the Vivendi fold, both locally and internationally. "Canal Plus has two original big ­pillars, ­consisting of cinema and sport, as well as a third pillar that's grown in importance over the past 15 years, that of fiction [TV] series," says Lupfer.
"Canal Plus has an extremely active role in the production and financing of cinema in France. We are the biggest contributor ahead of the distributors, exhibitors, free-to-air and other pay-TV channels. We cover 20% to 30% of the budget of the films we invest in and it's a role we want to maintain.
"The message from Vincent Bolloré was that we need to find solutions to reduce the channel's losses and reverse the trend of ­falling subscribers," he continues. "We need to bolster our content in all three pillars, which is why the alliance with beIN is so important, as is the development of new ­original fiction series. Cinema is also key, which is why we want to increase, not reduce, our investments in France."
Recent high-end dramas backed by Canal Plus under its Création Originale label include Black Baron, directed by Ziad Doueiri, costume drama Versailles, cult series The Returned and Paolo Sorrentino's upcoming eight-episode series The Young Pope, a co-production with Sky and HBO.
Lupfer notes the group is also experimenting with new forms of ­distribution, most notably myCANAL, a potentially game-changing catch-up platform revolving around Canal Plus content and available only to subscribers.
Europe's biggest studio
Cinema remains a key pillar of the internationally focused Studiocanal's activities. Describing Studiocanal as "Vivendi's content factory for cinema, TV and new formats", Lupfer notes features accounted for 60% of its $696m (¤600m) turnover in 2015, against approximately 20% for TV. In stark contrast to Canal Plus, the film and high-end TV producer and distributor is the star of the Canal Plus Groupe and a source of pride at Vivendi. That is thanks to international hits such as Paddington, Shaun The Sheep and The Imitation Game, as well as director-driven works such as Nicole Garcia's From The Land Of The Moon, which is premiering in Competition at Cannes.
"We produce films locally in France, the UK and Germany, the three European territories where we also have distribution operations, as well as internationally to make films with appeal to a global European audience," says Lupfer. The focus is resolutely European. "Our aim is to increasingly focus on European talents whether they're from the UK, the Nordics, like Tomas Alfredson, or Italy, like Luca Guadagnino.
"We have thousands of years of history behind us [in Europe] and a multicultural population," he continues. "When we mix this past and diversity, you get interesting stories, which can create IPs with appeal in Europe."
Upcoming productions on the Studiocanal slate include Jaume Collet-Serra's thriller The Commuter, staring Liam Neeson, Jose Padilha's hijacking drama Entebbe and Paddington 2, which will start shooting in September.
Upcoming local productions include Mike Newell's Guernsey, starring Rosamund Pike, in the UK and, for France, Alibi.Com, the latest comedy from Philippe Lacheau, co-creator and star of the Babysitting franchise. Recent German productions include Heidi, which travelled well beyond its home market.
Lupfer confirms Studiocanal is also keen to increase its involvement in TV, following investments in a trio of independent companies: Benedict Cumberbatch's SunnyMarch TV, Atlantis producer Urban Myth Films and Spain's Bambu Producciones. These join existing TV units RED and Guilty Party in the UK, Scandinavia's SAM and Germany's Tandem. RED and SAM are also developing short format series for new Vivendi unit Studio Plus, for smartphones and tablets.
"We're not looking to reduce investment in cinema, we want to reinforce it," says Lupfer. "The plan is instead to grow turnover rather than eat into cinema investment. Ideally we'd like to grow turnover from $696m (€600m) to $928m (€800m)."
A European Netflix?
The Canal Plus Groupe — parent group of Canal Plus and Studiocanal — is one of three key pillars of the Vivendi empire alongside the Universal Music Group and events-and-venues unit Vivendi Village. Vincent Bolloré is Vivendi's biggest shareholder with a 14.5% stake and wants to create synergies between these three poles to create a pan-European business group focusing on production and distribution of content, with a strong European bias. He wants to create a company capable of taking on the US giants of Netflix and Amazon.
Since Bolloré took the reins two years ago, the group has acquired a number of companies across the region. Vivendi has taken a 26.2% stake in European TV production giant Banijay Group and aggressively upped its shares in games companies Gameloft and Ubisoft, although neither entity is keen to enter the Vivendi fold wholesale.
On the distribution front, the group took a 30% stake in French film distributor Mars Films earlier this year, adding to its existing distribution activities in France, the UK and Germany. In what could be a major game-changer, Vivendi recently acquired Italian pay-TV channel Media Premium, as well as upping its ownership of Telecom Italia to 24.9% as part of a move to expand its reach into the southern European territories of Italy and Spain.
On the digital front, Vivendi acquired 80% of French online video site Dailymotion in June 2015 and is the owner of the German SVoD platform Watchever.