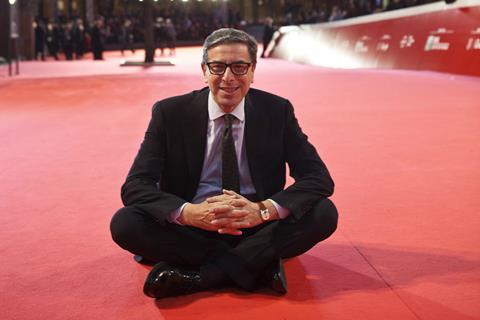 "Once you get rid of the absurd idea of exclusivity, you can stop being at war with festivals close to yours and start collaborating," says Antonio Monda, artistic director of Rome Film Fest (October 17-27), which takes place during the packed festival season at the end of each year.
Three to four titles of this year's edition will be shared with BFI London Film Festival, including The Irishman by Martin Scorsese — a Rome habitué. He first came to the festival in 2006 with The Departed and returned last year to receive a lifetime achievement award and participate in various activities around film restoration. This year he will arrive fresh from closing London on October 13.
The decision to not be limited to world premieres has been the cornerstone of Monda's festival. The 2019 edition will open with Edward Norton's Motherless Brooklyn. It is a sign, says Monda, of the significance with which the international industry now views Rome: "At first it wasn't easy for me to be received by major executives. Now it's the opposite; they come to us.
"There is no competition here, just movies and events," he continues. "Talents come for a two-hour-long conversation with the audience, not just for a red carpet and a press conference."
Bill Murray and Viola Davis will receive the festival's lifetime achievement awards this year. They will both participate in the Close Encounters talks section, which also features Norton, Hirokazu Kore-eda, Ron Howard, Olivier Assayas, Bertrand Tavernier and Bret Easton Ellis.
Monda is introducing two new sections in 2019. One is dedicated to adaptations, the other to famous rivalries. The festival has gathered 45 directors, screenwriters, novelists and artists for the former. Each day, two or three of the guests will discuss the single adaptation of a book to a movie.
In the latter section, famous cinema rivalries — such as Yasujiro Ozu vs Akira Kurosawa or Singing In The Rain vs Day For Night — will be temporarily reignited by contemporary champions of each who will debate their merits in a series of live events. "I will be part of one of these, arguing in favour of Sunset Boulevard against All About Eve, two movies that came out in the same year and competed in the Oscar season," says Monda.
International Audiovisual Market
A laidback vibe gives the international industry a compelling reason to attend Rome's MIA event
The International Audiovisual Market (MIA) is a key partner of Rome Film Fest, running alongside it from October 16-20. Now in its fifth year, MIA has been positioned as one of the last sales events of the year, falling between Mipcom and the American Film Market, but now MIA director
Lucia Milazzotto wants to transform it from "one of the last markets of the year to the first of the next".
Milazzotto is aiming to introduce more premieres and fresh projects to the market, which is being held at the newly renovated Piazza Barberini in the heart of Rome. MIA received 400 submissions this year, up 40% on 2018. Since it began, some 50% of selected projects have been fully financed, produced and distributed, according to Milazzotto.
Launched in 2015 as a reboot of Rome Film Fest's Business Street market, MIA has grown into a formidable event, featuring a strong line-up that comprises mainly Italian and European film, TV and documentary projects, including high-end recently finished product and a curated selection of works-in-progress. More than 200 international buyers from 43 countries will attend, including representatives from A24, Beta Cinema, Le Pacte, Studiocanal and Wild Bunch among others.
"MIA offers a more relaxed mood than previous markets [in the year]," says Paul Ridd, acquisitions manager for the UK's Picturehouse Entertainment. He says it provides an opportunity "to take meetings with sales agents and producers to discuss the fall line-ups while looking forward to the spring".
Ridd adds that he will be casting a broad net at MIA, seeking talent-led English-language projects, auteur cinema, cult oddities and documentaries.
The market is backed by Italy's motion picture association, Anica, and TV producers' organisation APA. MIA will again be supported by the Council of Europe's Eurimages co-production development award, worth $21,800 (€20,000), and the Nat Geo development award for MIA Doc projects, worth $10,900 (€10,000).
"Our buyers and sellers keep returning because MIA is definitively a cool event," adds Milazzotto. "We're a trend-setter because we talk about the future of our business while our participants present the freshest ideas and projects."
Michael Rosser