EXCLUSIVE: Simon Fitzmaurice's debut feature to world premiere at Galway Film Fleadh.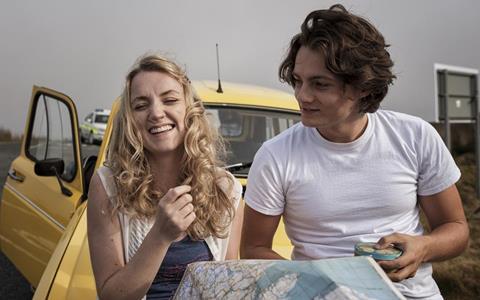 The Galway Film Fleadh (July 7-12) is to open with the world remiere of My Name Is Emily from filmmaker Simon Fitzmaurice, who wrote and directed the film despite being completely paralysed.
Fitzmaurice was diagnosed with Motor Neurone Disease - the debilitating condition for which the viral ice-bucket challenge raised awareness last summer - in 2008, shortly after his second short film The Sound of People premiered at the Sundance Film Festival.
Now completely paralysed, Fitzmaurice typed the script for My Name Is Emily, as well as bestseller It's Not Yet Dark through the movement of his eyes and iris recognition software.
This is also how he communicated to direct the film during a six-week shoot last year.
Fitzmaurice said: "I'm deeply honoured that the Galway Film Fleadh has invited My Name is Emily to open the festival. Everyone involved with the making of this film has worked so hard and I cannot think of a better reward and a better place for our film's world premiere."
GFF managing director Miriam Allen said the film moved the team to tears, "not only due to powerful film-making but also by Simon Fitzmaurice's own inspirational story".
The redemption drama centres on a teenage girl who runs away from a foster home with the boy that loves her and together embark on a road trip across Ireland searching for her writer father.
The film stars Evanna Lynch, best known for her role as Luna Lovegood in four instalments of the Harry Potter franchise, opposite newcomer George Webster. The cast also includes Michael Smiley (Kill List, A Field in England).
My Name Is Emily will be distributed by Eclipse Pictures and was produced by Newgrange Pictures and Kennedy Films, alongside Scandinavian co-production partners Garage Film and Paradox.
The film was financed by IFB, BAI, Section 481 and TV3 with co-production finance from Film i Väst and SVT in Sweden.
Production funding was completed via a crowd-funding campaign, which was supported by Jim Sheridan, Lenny Abrahamson, Colin Farrell, Sam Neill and Alan Rickman among others.