Second edition to open with sports doc Dennis Viollet - A United Man and close with the international premiere of There Should be Rules.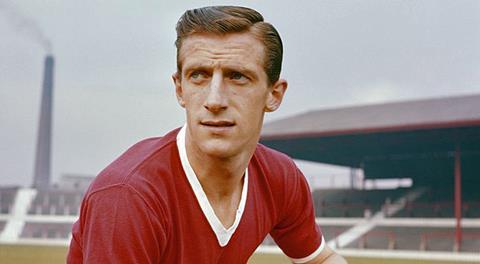 The Manchester International Film Festival (March 3-6) has announced its official selection this morning and will open with the international premiere of sports documentary Dennis Viollet - A United Man.
The film is a portrait of the late Manchester United football player who survived the notorious Munich air crash of 1958 and went on to become not only the captain of Manchester United but also the first British footballer to pioneer the sport worldwide and bring 'soccer' to the US.
The film is directed by his daughter, Rachel Viollet, and features commentary from footballing greats including Sir Alex Ferguson; Brian Robson; Dennis Law; Nobby Stiles; Wilf McGuinness; Paddy Crerand; and Mike Summerbee.
The film will be presented alongside two short films: I'm Sorry To Tell You from Manchester-based actor-director Ben Price; and, A Walk in Winter starring James Franco and Abigail Spencer.
Following last year's inaugural edition, MIFF will extend across the city at venues including HOME, AMC Manchester and the Odeon Printworks.
Founding director Neil Jeram-Croft said: "Film fans came out in their thousands for our first year and we're delighted to be expanding the festival in its second year and excited to be partnering with new venues including HOME and ODEON. We're looking forward to showcasing a strong slate of bold new films in Manchester this March."
Dennis Viollet - A United Man will also screen as part of the 'Sports Super Sunday' line-up on March 6. Coinciding with the Olympic year, the programme for the day includes a selection of sporting films, including: Dennis Rodman's Big Bang in Pyongyang from Manchester filmmaker Colin Offland; No Limits, the story of para-cyclist and racing driver Alex Zanardi; Northern Limits, a narrative feature set against the back drop of the 2002 Japan/South Korea World Cup; and the UK premiere of Broke, the story of an Australian rugby league star who has fallen on hard times.
A selection of international films directed by and/or featuring women has also been programmed, to coincide with Manchester's 2016 'Wonder Woman' event.
The line-up comprises several international premieres, including Cornelia Moore's West of Redemption, a romantic-thriller starring Billy Zane and Daniela Amavia's A Beautiful Now, starring Abigail Spencer. The UK premiere of Despite the Falling Snow, from British director Shamim Sarif and starring Rebecca Ferguson, Sam Reid and Charles Dance will also screen and the day will close with documentary Right Footed, about Jessica Cox, a woman born without arms who has gone on to become a licensed pilot and leading advocate for people with disability.
The previous day (March 5) will host 'Music Saturday', including the world premiere of Vince Giordano - There's a Future in the Past, a documentary about the Brooklyn born jazz musician who brought the music to 'Boardwalk Empire' and numerous Woody Allen films. Giordano will attend the festival and play live alongside Manchester's Mart Rodger's Jazz band.
Another world premiere is Lunar Orbit, a documentary about British electronic music group, The Orb. Both screenings will be accompanied by music-themed shorts from the official short film selection. Further live music events are to be announced.
The inspiring women in film theme will wrap up the festival at the closing night gala screening and international premiere of There Should be Rules, a Scandinavian coming-of-age drama directed by Linda Maria Birbeck.
The closing night will also include an Award Ceremony where the Manchester Bee awards will return for its second year. Films will compete over several categories including best short film, won last year by ManIFF2015's UK premiere Everything will be Okay which has since gone on to be an Oscar candidate for 2016, and the 'Film of the festival' which was won last year by US indie feature Desert Cathedral.
The full list of more than 90 films can be found at www.maniff.com.