Peter Mullan stars as golfing pioneer Tom Morris.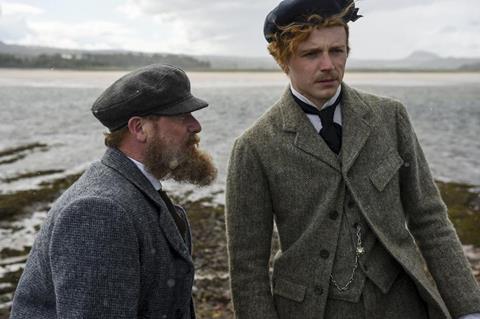 Edinburgh International Film Festival (EIFF) (June 15-26) has announced that the world premiere of Tommy's Honour will open the 70th edition of the festival on June 15.
Shot entirely on location in Scotland, Tommy's Honour is based on the true story of golfing pioneer Tom Morris and his turbulent relationship with his son Tommy.
Peter Mullan (Sunshine on Leith, War Horse) and Jack Lowden (War & Peace) take on the roles of father and son and lead a ensemble cast including Ophelia Lovibond (Man Up), Peter Ferdinando (Hyena) and Sam Neill (Jurassic Park) in the role of Alexander Boothby. Key cast are set to be in attendance on opening night.
Director Jason Connery said: "It's so exciting! I remember standing in the middle of a field in Fife during the shoot and saying to Peter and Jack, Tommy's Honour might get into the Edinburgh International Film Festival, not in our wildest dreams did we think it would be the Opening Gala opening."
Producer Bob Last added: "We look forward to introducing our film to Scotland and to the Gala being the first step in taking Tommy's Honour to an international audience."
Mark Adams, EIFF artistic director said: "We are proud to be staging the world premiere of Tommy's Honour. It is a beautifully made film packed with memorable moments and terrific performances and reflects perfectly our intention to keep on bringing great Scottish projects to our audience."
As previously announced, the festival will close with the world premiere of Scottish comedy remake Whisky Galore!.
EIFF will also introduce a works in progress strand on the industry side this year and has also revealed that this year's country focus will be Finland.
The festival will also devote one of its retrospectives to the Cinéma du Look wave of 1980s and early 1990s French filmmaking with titles including Jean-Jacques Beineix's Betty Blue (1986), Luc Besson's La Femme Nikita (1990) and Leos Carax's Les Amants Du Pont-Neuf (1991) among others.
Another retrospective, POW!!! Live Action Comic-Strip Adaptations: The First Generation, explores the evolution of the live-action comic-strip adaptation in cinema from Jean Jaques Vierne's TinTin and the Mystery of the Golden Fleece (1961) to Robert Altman's Popeye (1980).