Ahead of his anticipated directorial debut at SXSW, Colin Hanks speaks to Nadia Tseng about his seven-year journey to make a documentary about the rise and fall of Tower Records.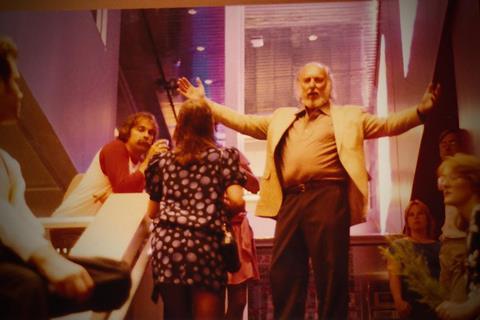 All Things Must Pass tells the story of how Russ Solomon transformed a family-run drug store in Sacramento into a cultural touchstone that spanned the world, only to collapse nearly 40 years later.
Hanks and his partner Sean Stuart produced through their Company Name label after raising more than $92,000 on Kickstarter and securing further funding. Preferred Content and Submarine handle worldwide sales and All Things Must Pass receives its world premiere in the 24 Beats Per Second section on on March 17.
When did you first get the idea that you even wanted to make a documentary about Tower Records?
When I first had the idea I was having dinner with an old family friend in 2006 when the stores were going out of business. She's a generation older than me and she was in New York visiting. She walked from her hotel to our restaurant and walked past the Lincoln Center location and saw the big sign and everything so we sat down for dinner and were talking about what a bummer it was that Tower was closing, both of us being from Sacramento. And obviously we were talking about it and talking about the music industry at the time and at the end of the conversation she said, "Oh man, I can't believe it started in that tiny little drug store," and I went, "What?" because I really had no idea. I didn't really know the history of it. I just had my connection to it and that was really it.
So the only connection you had to Tower Records was that you were from the company's birthplace, Sacramento, and you had that first store there where you grew up.
I spent a lot of time at Tower Records. Two of my mom's really close friends worked at Tower Records. I was really familiar with Tower and it obviously was a really important place in my life. I just didn't know the history of the company, and when my old family friend told me that it started with Tower Drugs and Tower Record Mart and all the stuff that is kind of covered at the beginning of the movie a lightbulb went off and I said, "OK, if that guy's journey starts there and ends having to close 160-something stores around the world, that's a pretty amazing journey. That sounds like a documentary."
What was it like going through the whole Kickstarter campaign and did you have any other financing sources?
Kickstarter was not the sole financial source, but Kickstarter is probably one of the most important aspects of our financing because it really helped keep the movie alive and really let people know that there was this movie was out there. And because of Kickstarter, we were then able to secure additional financing down the road. Everyone that I spoke to when told them that I was making a Tower Records documentary would immediately tell me what their connection to the store was, and Kickstarter really helped spread the word. Different outlets picked up on it as well, and so we were then able to get meetings with other financiers and stuff like that, and it wasn't like everyone came knocking right away and it wasn't like things got any easier after Kickstarter, but Kickstarter kept us alive and it kept us making the movie on our terms. When the Kickstarter money ran out at that point, we had had relationships with various people and were able to continue with additional funding.
So talk to me more about what is was like working with Russ Solomon. What was the process like even approaching him about making the film?
I was incredibly nervous approaching him, but in 0.3 seconds of sitting down with him you realise that this guy's a total character and a total nice guy. His first instinct was that we were crazy and that no one wanted to see a movie about Tower Records, his second thought was that, you really shouldn't really just be talking to me, you really need to be talking to some other people because they were the ones that are really responsible for it; I'm just the guy the guy that gets blamed for it. He's the first person to say, without hesitation, "Oh, I'm not the majority of the reason why Tower Records was successful. It's all the people who worked in the stores, it's all the kids who worked in the stores, and all the people that I worked with in the office."
He then introduced us to all the other people that we talked to in the movie and once we started collecting those interviews, which happened over the course of a few years, the story really started to come in focus for us. Because we realised that the story was really about this family, this group of people that came together and were really able to do something special and were able to travel the world and do this amazing thing and have a blast doing it. Initially, it was just dates and store openings and stuff, and while that really lets my 'geek flag' fly, it's not necessarily the most interesting documentary.
Did Russ work really closely with you throughout the entire process then?
Yes, he did.
And I'm sure he was very excited about the fact that someone was so interested in his story and his company.
Yeah, he was excited. I think he was very patient with us because, again, this took seven years and everyone kept going, "What's going on with the movie?" but he never rushed us. He was very patient. He was very helpful, and he is one of the coolest people I've ever met, and the way that he handled things at Tower very much the way I've made this movie: by putting my trust in people, hiring the right people, getting the right writer, getting the right editor and really letting them go off and do it. It really transformed the way I looked a film-making.
So there are a ton of interviews with musicians, including Elton John, Bruce Springsteen and Dave Grohl. What was it like collaborating with them?
Some were more excited than others, but everybody was willing. I think the thing that was really interesting was that they all said yes. I don't think I had anyone say no, and it's not because of me; it's really because of their connections to Tower. Elton's story in and of itself is pretty unique, so I knew about that [the performer was a regular visitor to the stores]. I knew that Dave had worked there and luckily I already knew him so I was able to approach him, and he's just the coolest dude on earth, so he was like, "Yeah, for sure, man. Let's go!" And Bruce was like, "I don't really have that many stories about Tower," and I said, "I only need one! And then let's just have a conversation." But everyone was just like, "Yeah, man! I'll talk about Tower! I love Tower!" And so it helps when the subject matter is a subject that everybody is passionate about.
What has it been like shifting gears from in front of the camera to doing all the behind-the-scenes, directorial stuff?
A lot of the behind-the-scenes, directorial stuff was actually pretty easy. The thing that made it difficult was that this isn't the kind of directing that I'm used to watching or working with. If this was a narrative film, I probably would have been a little more comfortable. I would have been scared, no doubt, for sure, but I probably would've been more comfortable that I am with a documentary. I kind of just jumped off the cliff and trusted my instincts. I had never really worked on a documentary before, and I learned as I went which is really kind of a crazy way to do it. But obviously since the time we've started this to now I have since directed and produced other documentaries, all short-form stuff, but still, I've gone out and been able to do those, and that has obviously taught me quite a bit. And much like acting, you never go, "Oh I know how to do a documentary now!" It's always different and always changing and you're always learning, so it was definitely an adjustment.
So did you have anyone from the business giving you any directing advice or any guidance during this process?
Not any directing advice or anything like that, no. Really what I did was just surrounded myself with people that were smart and had a lot of experience doing stuff. You always hire a good DP, so we hired some DPs that had experience doing documentary films. Our writer Steven Leckart has had experience doing interviews so I would do some interviews, he would do some interviews to share that load a little bit. Obviously our editor Darren Roberts did a pretty good job. Let me rephrase that: Darren is a fantastic editor and has been doing a really good job of always working on documentaries and really knowing where stories are and what you have and that sort of stuff.
As we're closing up here I want to know if you have any projects in the works currently.
Definitely have some acting gigs coming up. I just wrapped a film called Elvis And Nixon with Kevin Spacey and Michael Shannon that should be coming out at some point. I'm going to be shooting a pilot for CBS in the upcoming weeks that will hopefully get picked up for series. And then my producing partner, Sean Stuart and I, the two of us have this company called Company Name, and we produced this movie. We've been producing a series of short documentaries for ESPN under their 30 For 30 branch. One of our shorts will be coming out I believe in May called The Anti-Mascot. We produced a short for 538, which is Nate Silver's website. We produced a documentary that Gillian Jacobs produced called The Queen Of Code, about Grace Hopper. So we've got a lot of stuff. We're keeping busy.
Do you plan to keep doing this directing thing in the future or are you going to keep your focuses on the production company?
Well the production company is really just a way of being able to find projects to hopefully direct and hopefully act in as well, so it's a little bit of both. Primarily we've been doing documentaries just because we really like documentaries. Documentaries are just interesting but we are constantly looking for narrative stuff as well. So at this point now we're kind of just saying, "Let's do it all." It doesn't really matter, I'll do it all. I don't want to have to do another supremely low-budget documentary film for seven years, but hopefully this can help change that.