As Sundance prepares to announce the winner of the Alfred P. Sloan Prize, Jeremy Kay talks to the Sloan Foundation's vice-president and programme director about his mission to further public understanding of science, technology and economics through grant allocation and partnership with film schools around the US.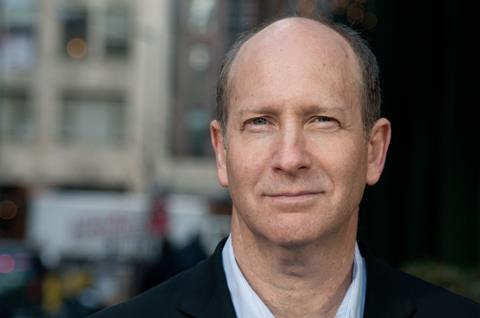 The Alfred P. Sloan Prize has been awarded at Sundance since 2003 and falls under the Foundation's mission to improve public understanding of these areas. It is presented each year in Sundance to a film that focuses on science or technology as a theme, or depicts a scientist, engineer, or mathematician as a major character.
Tell us about the Sundance award
The primary role of these awards is to get people thinking about science in their space. From the pedagogical point of view right there it's a success just getting them thinking and submitting. Eventually one goes all the way to becoming a film like Robot & Frank. That was originally a $20,000 student short film grant that I gave to a NYU student [Jack Schreier].
Who's on the jury?
We always have a jury comprising at least one scientist. This year we have a geneticist [Ting Wu], a physicist [Clifford Johnson], Mike Cahill [who won the Sundance Sloan Prize for his first two films Another Earth and I Origins], Shane Carruth [Sloan winner for Primer] and actress Kerry Bishé from Catch And Release.
A lot of what we're doing is bringing together people from different worlds so our jury deliberations are very interesting because they learn from each other. A big part of our impact has been exposing people to each other. Mike Cahill has used scientists in his films. People build up a rapport.
Who works alongside you?
It's really me. It's about how fast can I read and see things. It's moving in our direction. We contribute but it's much bigger than us. There's more and more science and innovation in the world now that we have Silicon Valley and innovation and A.I. and driverless cars and all our tech gadgets. As we become more tech savvy that's being reflected in storytelling. As a foundation we've been at the forefront and we legitimise [interest in science and technology]. We connect [storytellers] with scientists they may not have had access to – those worlds were previously hermetically sealed. Technological issues are making us as a society think about these things in a deep way.
Are more stories about science and tech entering the mainstream?
Yes this year there are so many films that would fit our criteria. The science in The Martian is extremely accurate. NASA thinks it's the best space movie ever made. Even the fact that people discuss what isn't real becomes a basis for understanding what is real and gets people talking about science. Joy really describes the process of invention and how she came up with something and brought it to market. Even The Big Short – we cover economics.
Tell us about some of the grants you've given out
We gave a grant to a NYU student at the time called Nicole Perlman years ago [Perlman has since written Guardians Of The Galaxy] and she wrote an amazing script about Richard Feynman. I gave a grant to an AFI graduate who has a script about Jane Goodall that Appian Way has picked up. I got her into the Hamptons screenwriting programme.
There's the project Afronauts from a Ghanaian filmmaker called Frances Bodomo who made a short film before. She's an NYU student. We gave her a $100,000 first feature award to turn this into a feature about the Zambian space academy in the late 1960s who wanted to beat the Americans in the Space Race. They didn't succeed, but it's a story that challenges our notion of Africa being this [scientific] backwater. We don't get a lot of these stories so it's great when you find one like that.
Sloan has also given about $700,000 in funding to a Hedy Lamarr series that Susan Sarandon is producing. It will go through the American Masters series on PBS. The thing about TV projects is we can guarantee it will get made. I cannot be that certain about film.
You give book grants too
I gave a grant for a book that's being turned into a film about African-American women mathematicians who helped NASA and the war to win the Space Race. One of them, Katherine G. Johnson, just received the Presidential Medal Of Honor from Obama. The author talks about growing up in the South surrounded by black women scientists. She thought that's how black people were. It's an untold story and we don't tell enough stories about people of people of colour in science. Oprah is involved.
How do you work with your partners?
There are four: Sundance Institute, Tribeca Film Institute, Film Independent, and the San Francisco Film Society. I use our partners as a farm system. Experimenter earned a commissioning grant from the Sundance Institute and they gave it a grant from Tribeca and Film Independent. Three of my partners helped to get that film to final launch. It premiered at Sundance 2015. [Ironically another film about the same subject, The Stanford Prison Experiment, won the Sloan Prize last year.]
Basmati Blues [a musical about a scientist sent to India to sell the genetically modified rice she created] to star Brie Larson is completed and went through the Film Independent producers lab. Sloan gave it a grant years ago. It's been a long road but they got Brie in the lead. There is no distributor on board yet.
What's new?
I keep looking for ways to support them along the path. This year we're dong a pilot with The Black List. One of their screenwriting lab projects will be a Sloan project.