Abdellatif Kechiche's sequel title Mektoub, My Love: Intermezzo has failed to impress the critics on Screen's Cannes jury grid, recording the lowest score so far this year of 1.5.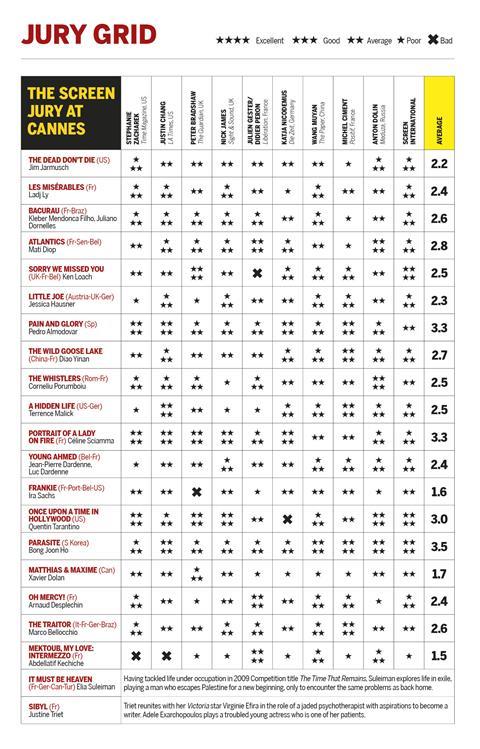 The film, a sequel to Kechiche's 2017 Mektoub, My Love: Canto Uno, took two scores of zero (bad) from Time's Stephanie Zacharek and the LA Times' Justin Chang, as well as five scores of one (poor).
The only critics to give a more favourable impression were Julien Gester and Didier Peron of Libération, who scored it four (excellent); plus Meduza's Anton Dolin and The Paper's Wang Muyan, who went for three (good).
Kechiche's previous Cannes title, the 2013 Palme d'Or-winning Blue Is The Warmest Colour, also won that year's jury grid with a 3.4 average including five top scores.
Intermezzo is the second part of the story of French youth over a long, hot summer in 1994, with this chapter contemplating the end of that season.
Marco Bellocchio's The Traitor has also taken its spot on the grid, recording scores slightly above the midpoint for a 2.6 average.
Although its modal score was two (average), its mark was raised by four threes, plus a four from Positif's Michel Ciment.
Bellocchio's film is about Sicilian Mafia turncoat Tommaso Buscetta, who testified against the organisation in one of Italy's biggest anti-Mafia trials.
With an amendment to one score, Bong Joon Ho's Parasite has extended its lead at the top of the grid, with a 3.5 average.
The final two titles to land are Elia Suleiman's Palestinian exile story It Must Be Heaven, and Justine Triet's psychotherapist drama Sibyl starring Virginie Efira and Adele Exarchopoulos.
It's almost the end of the grid – make sure you've filled in your Screen jury grid poster, and share with us at @screendaily on Twitter, Facebook and Instagram, with the grid image available to print here.