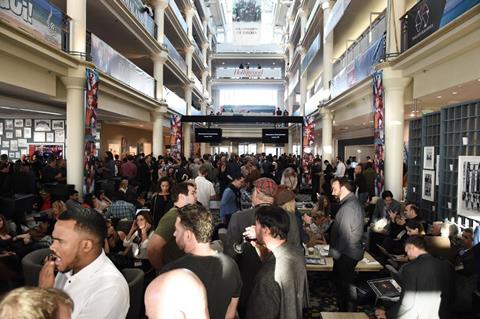 As the mid-term festival and market calendar remained unclear during the coronavirus pandemic, AFM organisers have confirmed they remain on course for the annual event in Santa Monica on November 3-8.
Market organisers said on Friday (May 1), "We know how difficult the past few months have been for our industry around the world and our thoughts go out to those whose loved ones have been directly impacted by the virus.
"Plans for AFM 2020 continue to move forward as scheduled. We are committed to providing the industry with a market where participants can connect and do business in a safe and secure environment. Online Registration is set to open on July 6 and we look forward to welcoming the world to Santa Monica in November."
The pandemic has decimated this year's festival and market calendar alongside other aspects of the audiovisual industry.
The last physical iteration of a major market and festival that took place this year was the Berlinale and EFM in back in February. Since then festivals and markets have either postponed, cancelled, or reconfigured themselves into virtual editions or other formats. Major cancellations this week came from Locarno and Karlovy Vary.

As the industry awaits word from Cannes Film Festival after it postponed its May 12-23 event and the French government subsequently banned large public gatherings until mid-July, there has been intense speculation over what form it might take.
Cannes Marché is launching its virtual edition on June 22, the same day as a group of US and UK sales agents, Hollywood agencies and Wild Bunch debuts its own version. The goal is for both initiatives to operate in a complementary manner.
At time of writing Venice Film Festival was set to go ahead on September 2-12 although the hierarchy has issued conflicting statements over the possibility of collaboration with Cannes. Roberto Cicutto, president at the Biennale that organises the festival, recently told Italian news agency ANSA there were no plans at the time for a collaboration, although the following day Venice artistic director Alberto Barbera told the agency there was "concrete desire" on both sides to work together.
Toronto brass are understood to be working on a hybrid physical-virtual edition for their festival, which currently remans dated for September 10-21.
San Sebastian and Zurich festivals will launch markets for the first time to accommodate titles that had been scheduled to screen at the cancelled SXSW and postponed Tribeca festivals. San Sebastian is due to run from September 18-26 and Zurich from September 24-October 4. At time of writing both were hoping to operate as physical events.
Filmart organisers postponed their Hong Kong event from March to August 27-29. Tribeca Film Festival and SXSW are participating in alternative ways of showing selections after postponing and cancelling, respectively. Many of the world's leading festivals have partnered with YouTube on We Are One: A Global Film Festival, a free online event that launches on May 29.