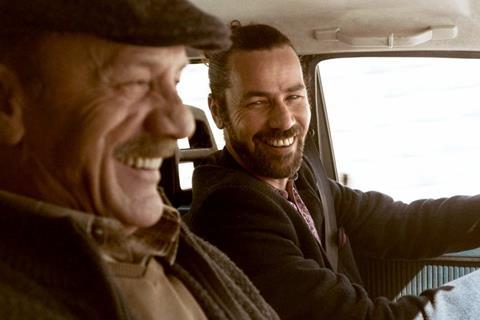 Palestinian director Annemarie Jacir's Nazereth-set picture Wajib has won best fiction feature at the 14th edition of the Dubai International Film Festival (DIFF) in the main Muhr Feature competition devoted to Arab cinema.
The film's co-stars Mohamed Bakri and real-life son Saleh Bakri shared the best actor award.
The pair play an estranged father and son forced together as they deliver invitations for an upcoming family wedding, their complex relationship a reflection of the complicated reality of Nazareth's inhabitants.
Wajib is Palestine's Foreign Language Oscar submission this year.
In other Muhr Feature competition awards, Lebanese director Lucien Bourjeily's comedy drama Heaven Without People, revolving around a family dinner that descends into chaos as old tensions resurface, clinched the jury prize.
Algerian filmmaker Sofia Djama took best director for The Blessed, an inter-generational drama set against the backdrop of Algeria in 2008 at the height of the civil war.
Syrian director Ziad Khalthoum's Taste Of Cement, about the lives of Syrian construction workers in Lebanon, won the award for best non-fiction work.
Best actress in the Muhr Feature category went to Menha El Batraoui for her performance as an ageing diva in Cactus Flower by Egyptian filmmaker Hala Elkoussy.
In another win for Palestine, which had a strong presence at DIFF this year, Mahdi Fleifel won best film in the Muhr Short category for A Drowning Man about a Palestinian man trying to survive in Athens without papers.
Lebanese director Cyril Aris's short The President's Visit, set in a small coastal town as it prepares for a presidential visit, clinched the jury prize in the Muhr shorts section.
In the Muhr Emirati category, focused on the work of UAE's budding local film-making community, Nujoom Alghanem won best feature with her documentary Sharp Tools about late Emirati artist Hassan Sharif.
Best director went to Abdullah Aljunaibi for his desert-set thriller Camera revolving around footage found on a discarded GoPro camera.
Directorial duo Hana Alshateri and Yaser Al Neyadi won best short for Escape.
In the regional Muhr Gulf Short category, Dhyaa Joda won the jury prize for Sabeya, about a Yazidi woman who decides to stay in her mountain village in Iraq rather than flee in the face of threat of ISIS, r and Ulaa Salim clinched best film for Land Of Our Fathers about a Jordanian man who returns home after a failed attempt to make a successful life in Denmark.
The audience award went to Simon Curtis's Goodbye Christopher Robin.