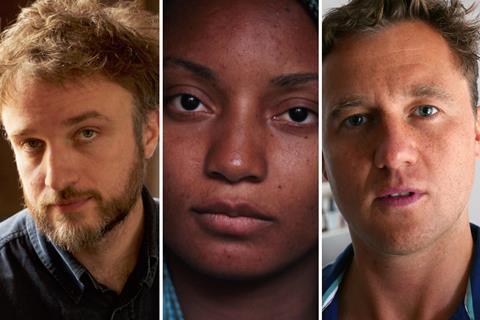 The BFI has announced the three finalists for the IWC Schaffhausen Filmmaker Bursary Award, which comes with a £50,000 grant.
The contenders are: Daniel Kokotajlo, writer, director of Apostasy; Rungano Nyoni, writer, director of I Am Not A Witch and Michael Pearce, writer, director of Beast.
The bursary is for an emerging UK-based writer and/or director premiering their first or second feature at the London Film Festival (LFF).
Pearce's debut feature Beast and Kokotajilo's debut feature Apostasy both premiered at the recent Toronto International Film Festival. Nyoni's debut I Am Not A Witch premiered at this year's Cannes Film Festival in Directors' Fortnight.
A jury of director Tom Hooper (The King's Speech), Amanda Nevill (CEO, BFI) and Christoph Grainger-Herr (CEO of IWC Schaffhausen) will select the winner.
A panel of industry figures including Rose Garnett, director of BBC Films, Sam Lavender, deputy of creative at Film4, Ben Roberts, director of the BFI Film Fund, Clare Stewart, director of the BFI London Film Festival, and Gaylene Gould, BFI Southbank's head of cinemas and events, selected the shortlist of filmmakers.
The winner will be announced at the BFI's 2017 Luminous fundraising gala on 3 October 2017.
World class talent
Speaking prior to the revelation of the shortlisted candidates at BFI Southbank today (Sept 19), Rose Garnett celebrated the current crop of rising UK filmmakers.
"[The British selection] felt like part of a world class conversation in Toronto. That doesn't happen that much," Garnett commented.
She added that the unifying factor of the three films was that you left "wanting to see the director's next film" and that she hoped that, despite there only being room for one winner, the UK industry would help to back all three filmmakers with their next projects.
Asked by moderator Jason Solomons how the trio's films fitted into modern UK society, Ben Roberts said, "We're excited that we have filmmakers who have something to say, they're engaged with the here and now."
While Beast director Pearce was unable to attend the event due to overseas commitments (since premiering in Toronto, Beast had its US rights picked up by 30WEST), he was interviewed in a video by Jason Solomons in which he said that figuring out your second film was "a crucial time in a director's career".
Speaking at the event, Manchester-born Apostasy director Kokotajilo (a former Screen Star of Tomorrow) said he was "over the moon" to be shortlisted for the prize.
Apostasy, which was loosely based on his own experiences of growing up as a Jehovah's witness, was backed by Creative England's iFeatures initiative. He said that were he to win the £50,000 prize, he would use the money to get the ball rolling on working towards his next feature.
Also speaking at the event, Zambia-born Welsh director Nyoni chimed with her other panellists in acknowledging the challenge that faced them when approaching their follow-up films. "It becomes more difficult to make a second feature, it feels like you're starting again" she commented.
Her debut feature was filmed and set in Zambia, but featured a number of UK talent among its crew and also received funding from the BFI. Nyoni said that she believes it is important for UK organisations to look further afield and back foreign projects from UK directors, highlighting recent success including Babak Anvari's Bafta-winning Under The Shadow.
"The idea of what British is is changing and expanding," she commented.
The inaugural bursary in 2016 was won by Hope Dickson Leach for her debut The Levelling, which received a theatrical release this May.