Twentieth Century Fox's Paul Hanneman and Tomas Jegeus named CineEurope 2015 Global Distributors of the Year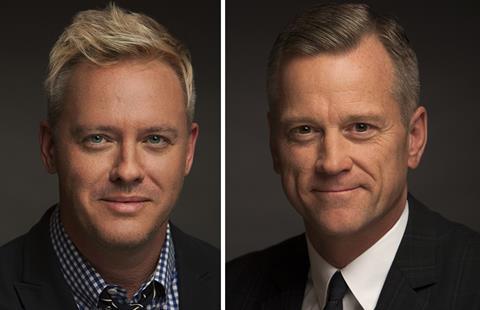 CineEurope is to present its 2015 Global Distributors of the Year Award to Twentieth Century Fox Co-Presidents of Worldwide Theatrical Marketing and Distribution, Paul Hanneman and Tomas Jegeus.
The honor will be presented as part of the Awards Banquet on June 25 at the International Convention Centre in Barcelona, Spain.
Robert Sunshine, co-MD of CineEurope, said the pair had "set the bar at CineEurope for their innovative marketing presentations as well as their fantastic themed events".
Hanneman and Jegeus were given their current titles at Fox in late 2013. In 2014, they helped the studio to a bumper year at the box office with titles including Gone Girl, The Fault in Our Stars, Dawn of the Planet of the Apes, How to Train your Dragon 2, X-Men: Days of Future Past, The Maze Runner and Birdman.
Hanneman joined Fox International in 1990 and in less than a year was the MD of the Korean operation. In 1993, he moved to Japan as MD. From 1995 to 2002, he served as SVP Asia/Pacific, managing the business across the 13-market region, eventually from Hong Kong. As the US-based EVP of Sales and Strategic Planning, from 2002 to autumn 2005, Hanneman was responsible for the development and execution of distribution strategies for the studio's slate.
Jegeus began his career at Fox in 1990 as marketing director for the UK office. In 1998 he moved to Hong Kong to become VP of the Asia/Pacific marketing division. From 2002 to 2004, he served as EVP of marketing for UIP. Jegeus returned to Fox in 2004 as EVP at Twentieth Century Fox International in Los Angeles, overseeing international marketing campaigns. He held that position until autumn 2005 when he was promoted to co-president of the division.
CineEurope will run from June 22-25 at the Centre Convencions Internacional Barcelona (CCIB) featuring screenings of upcoming Hollywood films, seminars and the CineEurope Trade Show.
It is the Official Convention of the Union Internationale des Cinémas/International Union of Cinemas (UNIC).