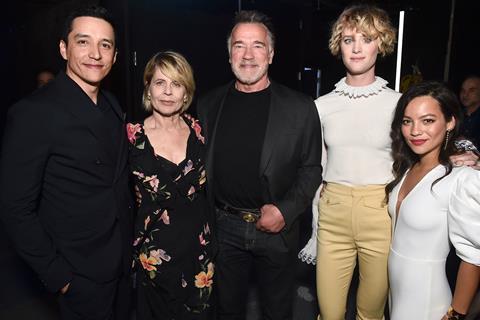 Arnold Schwarzenegger earned thunderous applause from CinemaCon attendees when he walked on stage after Paramount debuted footage from Terminator: Dark Fate during its CinemaCon presentation on Thursday (4).
The sci-fi was one part of a high-octane session presided over by studio chief Jim Gianopulos that included a montage of Tom Cuise photographs from Paramount-Skydance's Top Gun: Maverick, a sequel to the 1986 original that shifts the focus to drone weaponry and opens on June 26, and first-look footage of Eddie Murphy back as Prince Akeem and Arsenio Hall as Semmi in the August 7 release of the Coming To America sequel.
Schwarzenegger returns to the fray in Terminator: Dark Fate after his last outing in the action sci-fi franchise in 2015's Terminator: Genisys. He reunites with Linda Hamilton, back as Sarah Connor after T2: Judgment Day 18 years ago in what Gianopulos said was a return to the "intensity, grit and spectacle" of the earlier films.
Rising Colombian star Natalia Reyes from Birds Of Passage and Mackenzie Davis are the newcomers. Footage showed Davis as a new terminator who attacks police officers in Mexico. In another sequence Connor appears guns a-blazing as a T-1000 Terminator gives chase and Connor utters, "I'll be back."
Schwarzenegger noted how Hamilton had once again got into extraordinary shape. James Cameron and David Ellison are the producers and Tim Miller directs Terminator: Dark Fate from Skydance, Twentieth Century Fox, Tencent Pictures, and Lightstorm Entertainment. It opens on November 1.
The studio session kicked off with a troupe dancing to Elton John's 'I'm Still Standing' that cued up footage from Rocketman, which has been linked to an out of competition slot in Cannes.
Star Taron Egerton and director Dexter Fletcher assured the crowd that John wanted the film to reflect his life with honesty. That is a mouthwatering prospect. Over a career spanning decades, the British entertainer earned fame and fortune for his flamboyance and musical brilliance on stage, and endured a challenging private life off it.
Footage showed a young Reginald Dwight (John's given name) sparkling as a prodigious music academy student and going on to play his first US gig at storied Los Angeles venue The Troubadour.
Lee Hall wrote the script and the cast includes Jamie Bell as Elton's longtime lyricist and writing partner Bernie Taupin. Richard Madden, Gemma Jones and Bryce Dallas Howard round out the key cast.
The Marv Films, Rocket Pictures, and New Republic Pictures drama opens in May 31 and is produced by Matthew Vaughn, David Furnish, Adam Bohling, David Reid, with John on board as executive producer alongside Steve Hamilton Shaw, Michael Gracey, Claudia Vaughn, and Brian Oliver.
Ang Lee stunned attendees with footage from his upcoming sci-fi Gemini Man, featuring a Will Smith rejuvenated by remarkable technology to tell the story of an assassin who is hunted by a younger version of himself. Weta are behind the effects and the film deploys the 120fps frame rate. Lee met privately with industry on Wednesday to discuss the technology. Gemini Man opens on October 11 and hails from Skydance, Jerry Bruckheimer Films, and Fosun Pictures. Bruckheimer, David Ellison, Dana Goldberg, and Don Granger are producing, and the cast includes Mary Elizabeth Winstead, Clive Owen, and Benedict Wong.
Jim Carrey made an appearance to talk up November 8 Sega adaptation Sonic The Hedgehog in which he plays the villainous Dr. Robotnik opposite. Jeff Fowler directs and the cast includes James Marsden, Ben Schwartz as the voice of Sonic, Tika Sumpter, Natasha Rothwell, Adam Pally, and Neal McDonough.
The Paramount slate includes this week's release of horror Pet Sematary from di Bonaventura Pictures, and A Room 101, Inc; the independent spy thriller pick-up The Rhythm Section (November 22) inherited from Global Road and starring Blake Lively, Jude Law, Sterling K. Brown, and Raza Jaffrey; July 12 horror Crawl from Alexandre Aja about a woman and her father trapped in a flooded house with alligators during a hurricane; and Dora And The Lost City Of Gold (August 2) from Paramount Players.
A 2020 slate features A Quiet Place Sequel (May 15) starring the original cast and directed by John Krasinski; Tiffany Haddish and Rose Byrne comedy Limited Partners (January 10); murder mystery The Lovebirds starring Kumail Nanjiani and Issa Rae (March 6); John Cena and John Leguizamo family comedy Playing With Fire from Paramount Players (March 20); Untitled G.I. Joe reboot from Hasbro (March 27);
The Spongebob Movie: It's A Wonderful Sponge from Paramount Animation opens on May 22; spy thriller Tom Clancy's Without Remorse starring Michael B. Jordan on September 18; Hasbro's Micronauts on October 16; and family film Clifford The Big Red Dog on November 13.
In the pipeline are Paramount Animation's Monster On The Hill, Paramount Players' post-apocalyptic coming-of-age saga Monster Problems produced by Shawn Levy; and Antoine Fuqua sci-fi Infinite starring Chris Evans.