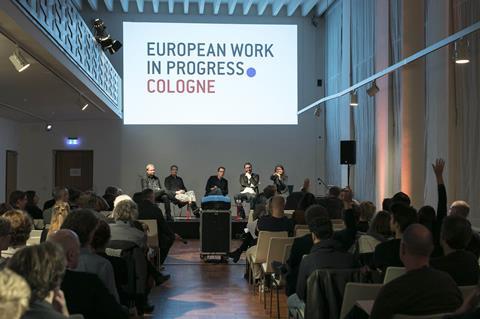 Cologne will host a new European market platform, European Work in Progress (EWIP), during the 2018 edition of the Film Festival Cologne.
Not be confused with the Edinburgh International Film Festival's own works in progress showcase EWiP, the initiative will be organised by the German independent distributors' association AG Verleih with support from the local regional film fund Film-und Medienstiftung NRW.
The organisers revealed to Screen that the platform is set to present footage from around 25 works in progress to an invited audience of international film distributors, producers and sales companies. The aim of the event will be developing distribution strategies and identifying potential co-producers or co-financing partners for the selected projects.
They added that the platform's focus will be on fiction feature films rather than on documentaries or animated features, and the submitted projects will need to have no less than 70% of their budget already in place when they are presented at EWIP.
Moreover, the new market will be open to projects from Europe in the wider sense rather than restricted only to the 28 member states of the European Union, and the project presentations will be complemented by a series of panel discussions and one-to-one meetings, with juries awarding prizes for the best projects.
EWIP's architects claim that their initiative is "the first [of its kind] in the Federal Republic of Germany and the first international one in Western Europe", especially since it will be a stand-alone event, albeit in close collaboration with Film Festival Cologne.
Works in progress showcases have become an increasingly important component of the industry programmes at film festivals throughout Europe. The selection of projects often has a specific regional focus as shown by the line-ups at the events in Karlovy Vary, Sarajevo, Edinburgh, Wroclaw, Göteborg, Locarno, Tallinn, Haugesund and Utrecht.
Meanwhile, in Germany, works in progress showcases are presented as part of the DOK Leipzig's industry programme, the Connecting Cottbus East-West co-production market, and at Stuttgart's International Festival of Animated Film.
The closest to the EWIP model is Les Arcs' Work In Progress session which presents excerpts of 14 selected European features in post-production to a professional audience each December, while Tallinn's Black Nights Festival will be staging its International Works in Progress section for the third time this year in addition to the traditional Baltic Event works in progress showcase.
Plans for the new platform were unveiled on Wednesday afternoon (Oct 4) by Neue Visionen/Pluto Film's Torsten Frehse (who is also on the board of AG Verleih), and Pandora Film's head of sales and marketing Björn Hoffmann during a panel discussion at this week's Film Festival Cologne.