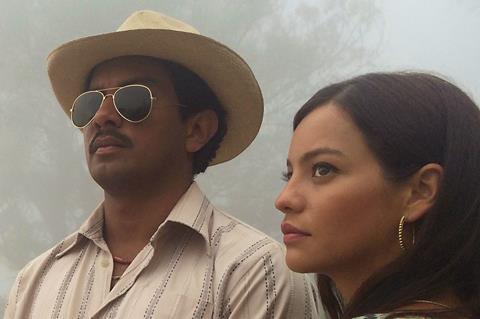 Birds Of Passage, the Cannes Director's Fortnight opener co-directed by Ciro Guerra and Cristina Gallego, has been selected to fly the flag for Colombia in the upcoming foreign-language Oscar contest.
The film heads to Toronto next week where it will screen in Contemporary World Cinema and chronicles the origins of the Colombian drug trade as it gradually corrupts a native Wayúu family.
Wayúu descendants Jose Acosta and Carmiña Martínez star alongside rising Colombia star Natalia Reyes of the upcoming Terminator reboot.
North American distributor The Orchard will release Birds Of Passage on February 13, 2019, in New York and Los Angeles followed by nationwide expansion.
The fourth film by producing-directing team Gallego and Guerra follows Embrace Of The Serpent, which earned a foreign-language Oscar nod in 2016.
"We are incredibly humbled and honored to again be the Colombian selection for entry to the Academy Awards, especially with a film that is so personal to our country's history and narrative," said Gallego and Guerra. "We are very grateful to La Academia Colombiana de Artes y Ciencias Cinematográficas, which has supported us throughout our careers. It is with great pride that we bring this film to a global audience."
"We were thrilled to hear the good news that Birds Of Passage has been selected as Colombia's official entry for the Academy Awards," said The Orchard executive vice-president of film and TV Paul Davidson. "There's no question that Cristina and Ciro's film is a stirring, epic masterpiece — but its dramatic retelling of the origins of the drug trade and its impact, which is still felt today, is particularly timely and meaningful. We are proud that audiences will get to experience such a singular vision on its path to release."
Gallego makes her directorial debut and produces alongside Katrin Pors. Guerra is set to direct the upcoming adaptation of J.M. Coetzee's Waiting For The Barbarians starring Robert Pattinson, Mark Rylance and, as first revealed by Screen in Cannes, Johnny Depp.