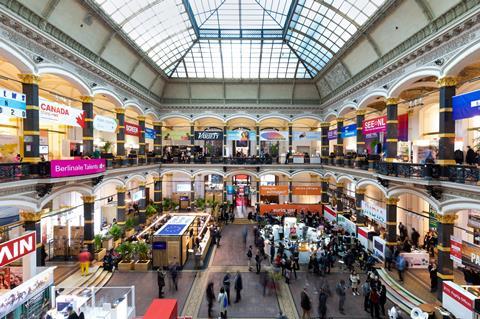 A handful of eye-catching deals on heavyweight packages have fuelled an optimistic return to the European Film Market.
Prime Video has snapped up international rights to AGC Studios' Justin Kurtzel's white supremacist thriller The Order starring Jude Law and Nicholas Hoult, and AGBO's Zoe Saldana action-survival thriller The Bluff sold by Rocket Science.
Black Bear International reported strong pre-sales on serial killer thriller Longlegs, with Neon circling, as well as musical Fred & Ginger, while buyers were warming to Capstone's Liam Neeson thriller The Riker's Ghost.
Voltage hosted a popular presentation of its YA slate and launched sales on Milli Vanilli biopic Girl You Know It's True, Fifth Season is setting up screenings in the US for Berlinale special screening Superpower, and buyers reportedly liked Tina Satter's Panorama title Reality starring Sydney Sweeney.
European and German acquisitions teams in particular were out in force, alongside a notable Latin American contingent, many of whom travelled to the AFM in Santa Monica last winter. Notable too was an active presence from Korea and in some cases Japan. Serious talks with Chinese and Hong Kong buyers will get underway at Filmart next month.
Protagonist Pictures' George Hamilton reported "lots of activity, and such a spread of buyers". The chief commercial officer continued, "We've had good action from Asia, which has been cool. Through the pandemic we didn't see huge action from some south east Asian territories. A welcome return. There's a good showing from Indonesia, South Korea, India."
Protagonist screened the market premiere of It Lives Inside ahead of its world premiere at SXSW. Neon holds US rights. "We held two screenings and both were very well attended," said Hamilton. "It's been fantastic, particularly when you have something like a horror film, to show it in a communal setting on a great big screen."
"CIS and Eastern Europe have been competitive. Italy and Spain have been more selective than at other markets because of tricky theatrical box office results and a decrease in pay-TV sales," observed Asia Muci, head of international distribution at Signature Entertainment.
High prices
Overall buyers reported high prices and said it was difficult to bid on certain titles as sales agents preferred to hold out for worldwide deals with streamers. Yet the mood overall was optimistic.
"Buyers were very happy to be back," said Arclight Films president of worldwide sales Pia Patatian, who introduced sales on John Curran's psychological thriller Mercy Road and Sundance indie Fairyland. Patatian has scheduled follow-up meetings with buyers in the coming weeks, reflecting the more languid pace of deal-making since the start of the pandemic ushered in virtual markets.
"Buyers said there was a lot of product and people came for shorter time, having started meetings online in the previous weeks and closed a lot of deals early," added Signature's Muci.
Cleo Verger, head of sales at documentary specialist Dogwoof, noted a clear divide between international and US non-fiction buyers here. "The international buyers of theatrical docs are much more proactive than the American theatrical buyers of documentaries," she said. "We know of Sundance docs that have not yet secured American distribution but that managed to secure distribution in several international countries, which shows a healthier international marketplace than what the US currently is."
"It's been a return to the joy of watching films, and has been great to see films perform in their categories," said Léo Teste, director of sales and distribution at Film Constellation. "There is a sense of optimism in all territories as box office seems to be picking up again worldwide. Independent success at the box office over the last few months has set everyone up for a positive EFM. We've seen great engagement from European buyers for both completed and pre-buy titles, and also interesting to see the Korean market appears to be picking up strongly amongst other Asian territories.
"Out of the last three physical post-pandemic markets, Cannes, AFM and Berlin, this is the strongest in terms of commercial outcome," said UK-based Reason8 Films director and co-founder Anna Krupnova. "Germany has still been the strongest territory at Berlin. It's the home territory, and it's been strong for our company specifically because of the genre of the pictures that we represent [horror, thriller]. France has been very good, South Korea excitingly, Japan, and Latin America. I didn't expect Latin Americans to be so proactive because they were in full presence at the AFM, and because of costs and travel restrictions still in place in certain areas, but I've met quite a few and done deals here."
"The big thing here for us has been checking out what's coming up in Cannes and later markets this year," said Paul Ridd, head of acquisitions at Picturehouse Entertainment. "It's been good to see a bunch of interesting promos and read some good scripts. I feel like there's a great year ahead for debuts and established filmmakers alike. In terms of completed films showing here, there hasn't been a great amount of stuff in selection that has piqued our interest for distribution, although I am sure there are a few gems left to see."
Additional reporting by Ben Dalton