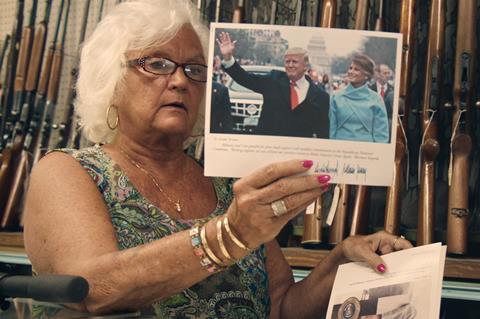 German sales agent Deckert Distribution has boarded a hat-trick of documentaries set to world premiere in competition at Switzerland's Visions du Réel.
The features include Bellum - The Daemon Of War by Swedish directors David Herdies and Georg Götmark; Les Enfants Terribles by Turkish filmmaker Ahmet Necdet Çupur; and The Bubble by Austria's Valerie Blankenbyl.
All three will play in the main competition of Swiss documentary festival Visions du Réel, which revealed its full line up today and is set to take place from April 15-25 both online and physically in Nyon.
Bellum - The Daemon Of War is produced by Sweden's Momento Films and presents a triptych of stories about the ways that Western nations choose to present and profit from war, focussing on a scientist in Sweden, a private military contractor in the US and a war photographer in Afghanistan.
Les Enfants Terribles unfolds in a village near the Syrian border of Turkey where filmmaker Çupur turns his camera on his brother and sister to explore a story of intergenerational conflict.
Producers are France's TS Productions, Germany's JYOTI Film and Turkey's Liman Film. It marks the feature debut of Cupur and the project has previously received support from the Berlinale's World Cinema Fund and Doha Film Institute.
The Bubble examines the often-surreal senior citizen life within The Villages, America's largest retirement community, where not everything is as idyllic as it seems. Produced by Switzerland's Catpics and Austria's Golden Girls Filmproduktion, it marks the third documentary feature by Blankenbyl, whose Indian surrogates film A Mother's Dream debuted at Nyon Film Festival in 2013.
The titles add to a further three documentaries already on Deckert's slate that are set to screen at this year's Visions du Reel. These include Andrea Segre's Molecules, chosen as Venice 2020's pre-opening film; Roberto Salinas' Cuban Dancer, which won the Knight Made in MIA award at the recent Miami Film Festival; and Vitaly Manksy's Gorbachev. Heaven, winner of best director at IDFA 2020.
The six titles represent Deckert's biggest line-up at the festival to date and Liselot Verbrugge, head of sales and acquisitions at the sales outfit, said it would further present the documentaries to buyers at the upcoming CPH:DOX and Hot Docs.