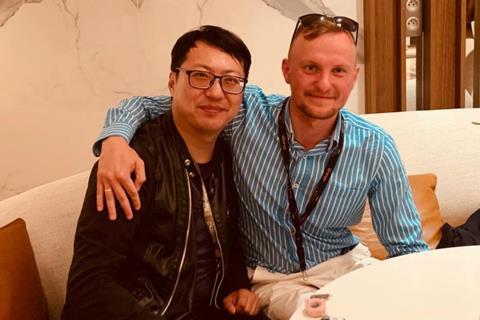 A new film sales agency has launched in a bid to give Chinese projects more visibility on the international market with additional plans to introduce more titles from around the world into China.
Dragon Den International Film Sales has been forged by Beijing-based producer Aihui Dong and Poland's Marcin J. Sobczak and will focus on both arthouse and commercial titles for theatrical distribution and VOD platforms.
Dong, CEO of Beijing's VRision Film, will scout Chinese projects and oversee the outfit in China. Sobczak, the founder of This Way Publicity who has worked on titles including Loving Vincent, will handle the international side of the business. The company has offices in Beijing, Shanghai and Warsaw. Loving Vincent grossed nearly $11m at the China box office in January 2018.
Dragon Den has launched with two features, a short and more than 100 VOD films, all from China. The features comprise Yichuan Hu's drama Distance Hope, about a widow who goes searching for his missing son, and Fish Under the Ice, from director Zhang Li, which was presented as a work-in-progress at the Shanghai International Film Festival in May.
The highlights of the VOD titles include action adventure films Monkey King: The Volcano and Million Demons City.
Dragon Den is also looking to grow its sales portfolio, eying projects from all territories to sell into China.
Sobczak met Dong at the Venice Biennale in 2018, where they quickly began discussing the opportunity for a joint venture.
"There are a significant number of projects in China that are not properly taken care of internationally," said Sobczak. "Equally, there are so many films around the world that would be of interest in China but there isn't enough manpower or industry knowledge to bring them in. We want to create those pathways."
The agency is also looking to add family, animation, drama and crime titles to its portfolio, genres Sobczak acknowledged perform well in China and internationally.
He added: "We are scouting projects and I'll be attending Mipcom next month as well as Berlin and Cannes in 2020, where we plan to host events around new projects."