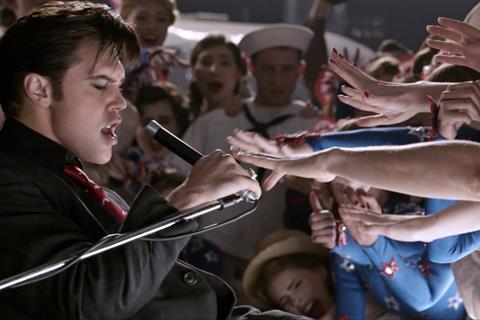 Elvis won 11 awards including best film at the Australian Academy of Cinema and Television Arts Awards (AACTAs), held over two days (December 5 and 7) in Sydney.
Director Baz Luhrmann and actor Austin Butler were among the Elvis winners, along with cinematographer Mandy Walker – who is reportedly the first woman to win the category at the AACTAs.
Catherine Martin won for costume design and for being part of the production design team. Like actor Chris Hemsworth, she was honoured more generally for her career and her impact on the Australian industry.
Writer/director Thomas M Wright elbowed out Elvis and others with his screenplay for The Stranger, based on a book by crime reporter Kate Kyriacou. British actor Sean Harris won best supporting actor for the film.
Leah Purcell earned the best actress award for her role in The Drover's Wife The Legend Of Molly Johnson, her feature debut as a writer and as a director.
A Stitch In Time, written and directed by Sasha Hadden, was awarded best indie film, whilst Cezary Skubiszewski won the original score prize for Falling For Figaro.
Elvis, which also won the audience film choice award, grossed A$33.5m for Warner Bros locally and is currently seventh in the 2022 box office chart.
The winner of the most TV awards, indigenous-themed detective prequel Mystery Road: Origin, won seven prizes including best series and best actor for Mark Coles Smith.
AACTA Awards 2022 – selected winners
Best film
Elvis, Baz Luhrmann, Catherine Martin, Gail Berman, Patrick McCormick, Schuyler Weiss – Bazmark
Best indie film
A Stitch In Time, Sasha Hadden (dir) – Hadden Motion Pictures
Direction
Baz Luhrmann, Elvis
Screenplay
Thomas M. Wright,The Stranger
Lead actor
Austin Butler, Elvis
Lead actress
Leah Purcell, The Drover's Wife The Legend of Molly Johnson
Supporting actor
Sean Harris, The Stranger
Supporting actress
Olivia DeJonge, Elvis
Cinematography
Mandy Walker, Elvis
Costume design
Catherine Martin, Elvis
Editing
Matt Villa, Jonathan Redmond, Elvis
Original score
Cezary Skubiszewski, Falling For Figaro
Production design
Catherine Martin, Karen Murphy, Beverley Dunn, Elvis
Sound
David Lee, Wayne Pashley, Andy Nelson, Michael Keller, Elvis