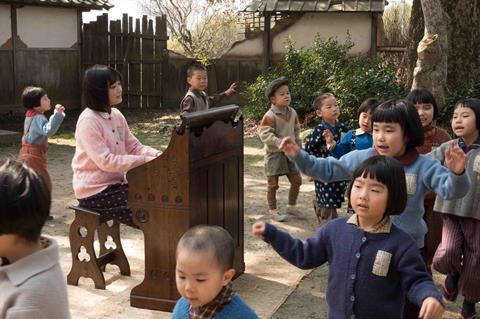 Japan's Gaga is launching international sales at Filmart on Organ, the second feature from Emiko Hiramatsu (Seven Days Of Sunflower And Puppy) who worked with Yoji Yamada as co-screenwriter and assistant director on films including What A Wonderful Family!.
Starring Erika Toda (Code Blue) and Sakurako Ohara (The Liar And His Lover), the film is based on a true story from the Second World War when young nursery school teachers evacuated dozens of children from Tokyo to save their lives. Under the threat of bombing, one teacher plays an organ to relieve the children's fear and loneliness.
Lee Bong Woo, winner of the Japanese Academy Award best film award for 2006's Hula Girls, is an executive producer on Organ. Mancy's Entertainment released the film locally on February 22.
Gaga's Filmart slate also includes high-school gambling film Kakegurui, directed by Tsutomu Hanabusa (Handsome Suit); music road movie Farewell Song starring Nana Komatsu, Mugi Kadowaki and Ryo Narita; and horror film Hell Girl, directed by Koji Shiraishi (Sadako Vs Kayako).