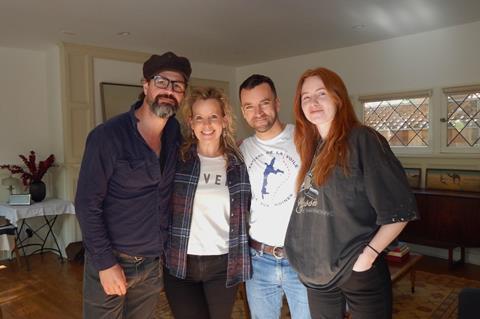 Filmmakers First Fund, a Los Angeles-based fund and studio space supporting full-length narrative and documentary projects in early development, has announced its first round of awards.
Fund co-founders Martin Marquet, a producer and former international publicist who produced 2020 Sundance World Cinema – Documentary grand jury prize winner Epicentro, Tony-winning Broadway producer Rebecca Gang (Hadestown), and producer/actor/artist Gale M. Harold III (Queer As Folk, Deadwood, Scott Walker: 30th Century Man) invited a majority women-led board to select three projects.
The awardees will each receive grants of up to $50,000, as well as 12 months of access to the Fund's 1930s home-turned-work-and-community space in Hollywood.
The Fund recipients are: Sontenish Myers, a Jamaican-American writer-director, graduate and adjunct professor of NYU's Graduate Film programme who lives in New York, for Stampede; Brooklyn-based documentary director, producer and cinematographer Rachel Lears for To The End; and New Orleans-based filmmaker Phillip Youmans for The Colonel, 88 Degrees.
"From the moment I connected with the FFF team, I knew I'd just come in contact with a very special community," said Myers. "To experience such story-forward and filmmaker-forward support for my first feature gives me so much hope for the future of cinema."
"It means a lot to know that they really understand what we're trying to do," said Lears, who directed 2019 Sundance documentary Knock Down The House. "It's great news for the film community that this new fund exists, and we're honoured to be part of their inaugural group of projects."
Youmans, who at 19 became the youngest and first African-American director to win the Founder's Award for Best Narrative Feature at 2019 Tribeca Film Festival for his feature debut, Burning Cane, added, "[FFF's] support has been invaluable in getting us to where we are today."
"Fighting to restore and strengthen human dignity in a world increasingly deprived of spirituality as a social force is a shared narrative purpose of our 2020 grantees," Marquet, Gang, and Harold III said in a joint statement.
"Filmmakers First Fund was born out of a desire to support filmmakers who fully embrace the art of cinema as a compelling and effective language of interior awakenings that often lead to important new perspectives, a change of heart or a call to action.
"That's why we're particularly excited in this inaugural year to be funding new film projects led by directors Sontenish Myers, Rachel Lears and Phillip Youmans, all of whom fuel our imaginations with visions of a future that so many are craving in these difficult times."
The women-led readers board for the inaugural Fund comprises: filmmaker, arts activist and David Lynch collaborator Mary Sweeney; writer/director/producer Susie Landau Finch, who worked extensively for Francis Ford Coppola's American Zoetrope prior to forming Wildwell Films; and psychotherapist and former MOCA and Guggenheim Museum curator Julia Brown.