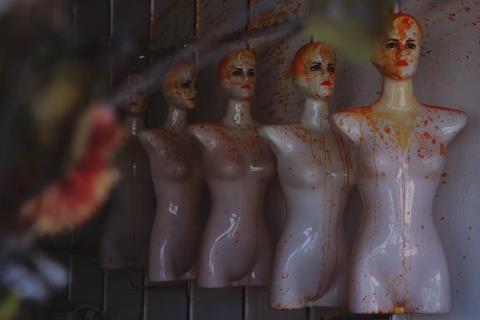 International Documentary Film Festival Amsterdam (IDFA) has confirmed the first titles of its 2021 edition, due to take place as a physical event from November 17th to 28th in the Netherlands.
Among the films announced today are those to be shown as part of the 'Top 10', chosen by the festival guest of honour, the German writer and multi-disciplinary artist, Hito Steyerl.
This is the part of the festival where a leading filmmaker or artist (generally someone with links to the documentary world) is invited to pick his or her Top 10 film. They are then shown in the festival, often accompanied by discussions and masterclasses.
Steyerl, a German writer and multi-disciplinary artist, has chosen a mix of titles that have influenced and inspired her. These include Videograms Of A Revolution (1992) from Harun Farocki and Andrei Ujica; Yama: Attack To Attack (1985) directed by, Mitsuo Sato and Kyoichi Yamaoka, and about the struggles faced by day labourers in the San'ya district of Tokyo; Stories Of Destroyed Cities (2020) by the Rojava Film Commune; and Kenedi Goes Back Home (2003) by Želimir Žilnik.
As part of the Top 10, the festival will also be showing La Commune (Paris, 1871), the 2000 film by Peter Watkins which has been remastered for cinema release under the supervision of the director.
Barbara Hammer's experimental documentary Nitrate Kisses (1992), Martha Rosler's Semiotics Of The Kitchen (1975), parodying TV cooking demonstrations, and Laura Poitras' Oscar-winning Edward Snowden documentary Citizenfour (2014) complete the selection.
Steyerl will be in Amsterdam for IDFA and is due both to give a filmmaker talk and to moderate sessions with filmmakers from the titles she has programmed.
Meanwhile, IDFA is also holding the European premiere of Nature by Artavazd Pelechian. This is the revered Armenian director's first film in almost 30 years. Pelechian will be at IDFA to receive a lifetime achievement award. He will be accompanied to the festival by his longtime collaborator and producer, Andrei Ujica, Several of his earlier films including We (1969), Seasons Of The Year (1975) and Our Century (1982) will also be screening at the festival.