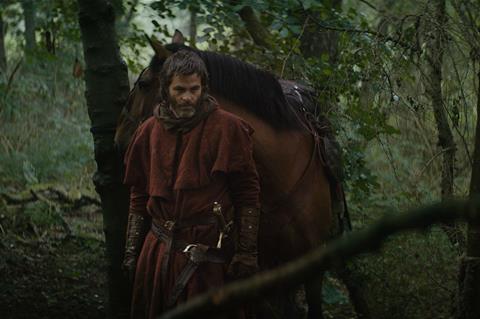 Shoot is underway in Scotland on David Mackenzie's (Hell Or High Water) period drama epic Outlaw King about iconic Scotsman Robert The Bruce, the 14th century King Of The Scots.
Pine stars as Robert The Bruce, alongside Aaron Taylor-Johnson (Nocturnal Animals), Florence Pugh (Lady Macbeth), Tony Curran (Sons of Anarchy), Stephen Dillane (Game of Thrones) and Billy Howle (On Chesil Beach).
The film is the first UK narrative feature Netflix has boarded ahead of production. To date, the streaming giant has boarded UK projects – such as iBoy and Been So Long - at a later stage.
The film reunites director David Mackenzie with Chris Pine following Oscar-nominated Hell Or High Water.
The feature film is produced by long time filmmaking partners David Mackenzie and Gillian Berrie via their production company Sigma Films, and Richard Brown and Steve Golin of Anonymous Content.
The screenplay written by Mackenzie, Bash Doran (Boardwalk Empire), James MacInnes, Mark Bomback and Scottish playwright David Harrower takes place over the historic year when Robert the Bruce fights to regain control having been crowned King of Scots, only to be defeated in a surprise attack and made an outlaw by the English King and his occupying forces.
Supported by Creative Scotland, shooting will take place in historical locations in Scotland including the last known resting place of the legendary Scottish king's remains.
The film is slated for release in 2018.
The last time a US star took on a Scottish historical icon – Mel Gibson's 1995 epic Braveheart - the film took home 5 Oscars and more than $200m at the box office.
Director Mackenzie commented: "I am so happy to have the opportunity to dig deep into the story of Robert the Bruce and to discover some of the truths that often get obscured by legend. This is my sixth feature film shot in Scotland and autumn is my favourite time of year to shoot so I am excited to bring this film to light in the beautiful Scottish elements - come rain, shine, storm or snow. I am proud that our little Glasgow based production company, Sigma films, has been able to make this film and thank Netflix for letting us do it."
He continued: "I am also delighted that Chris Pine, with whom I had a great time on our last film, has joined our Scottish and international cast and crew including the excellent Aaron Taylor-Johnson and the exciting emerging talent of Florence Pugh and Billy Howle.
"I know Chris will bring intensity and flair to Robert the Bruce and his struggle to take back his country, being crowned King of Scots, then suffering a disastrous defeat and left on the run with just a handful of supporters only to claw his way, with bravery and cunning, back to victory. This was an early form of guerrilla warfare against the might of a vastly bigger better resourced enemy and is one of the great comeback stories of history."
"David's talent as a filmmaker and storyteller is undeniable. We are excited to be working with him on a project of this scale bringing such a powerful story to life." said Netflix's Scott Stuber. "We believe in the universality of this David and Goliath tale, and that it will be enjoyed and appreciated by audiences all over the world."