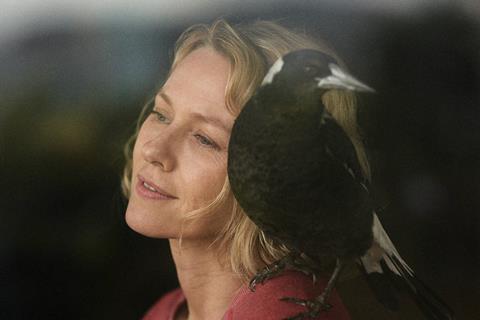 Screen has obtained a first-look image of Naomi Watts in the upcoming Penguin Bloom as Endeavor Content launches sales on the family drama at EFM.
Andrew Lincoln and Jacki Weaver also star in the Sydney-set true story about a family that rediscovers hope when it adopts an injured magpie chick after a near-fatal accident leaves a mother of three (Watts) paralysed from the waist down.
Watts is producing alongside Emma Cooper and Bruna Papandrea (Big Little Lies, Wild), Jodi Matterson, and Steve Hutensky. Endeavor Content co-finances.
Glendyn Ivin directs Penguin Bloom from an adapted screenplay by Shaun Grant (True History Of The Kelly Gang, Mindhunter) and Harry Cripps, based on the book Penguin Bloom by Cameron Bloom and Bradley Trevor Greive.