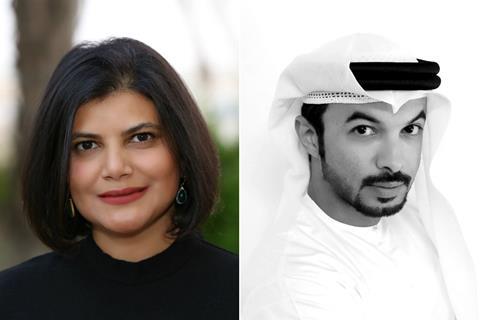 Former Dubai International Film Festival (DIFF) managing director Shivani Pandya Malhotra and Emirati director and producer Mohammed Saeed Harib have launched a new marketing and consultancy venture called NearEast Entertainment.
The company, which is based in Dubai, will offer strategic marketing services and consultancy, targeting the TV, music, film, arts and live events sectors throughout the MENA region.
One of its key focuses will be working with filmmakers from the region, to help them secure finance for their projects, establish connections with industry professionals from across the world and build marketing strategies for completed works.
It also has ambitions to bring international films to the region, supporting studios with their MENA theatrical release through publicity support, regional expertise and insight on how to reach new audiences in the Arab world.
"NearEast Entertainment is born out of a passion to celebrate film and culture and with a vision to support the rapidly evolving media and entertainment industry in the GCC," said Pandya.
"There is currently a gap in the market both in the UAE and the wider Arab world which Near East Entertainment can fulfil with excellent personal and professional connections within Hollywood, the Indian and the Arab film industries."
She said the company's early projects included consultancy work with the government of Sharjah as well as advising two new projects involving episodic content.
Harib said the company's creation came at a time when the local industry was growing at "incredible pace".
"Local audiences are hungry for compelling content, events and initiatives from home and abroad and we are keen to bring our expertise to global entertainment brands, filmmakers and industry professionals to deliver stand-out content and cutting-edge events to the region," he said.
Pandya Malhotra was managing director of the Dubai International Film Festival (DIFF) until the event was mothballed last April.
Prior to that she worked at Dubai's media hub Media City, joining as one of its first employees in 2001. Before that, she worked in TV and film production at United Television (UTV) in India.
Harib is best known as the creator and producer of the hit animation TV series FREEJ as well as one of the directors on the feature-length animation The Prophet, alongside filmmakers including Tomm Moore, Bill Plympton and Joan Sfar.
He also runs his own Dubai-based creative studio, Lammtara Art Productions.
Pandya Malhotra and Harib first worked together on the development of FREEJ, and have collaborated on and off together ever since.
"We really complement one another as a team," commented Pandya.
They are joined in their new venture by a host of former associates and media specialists including Jane Williams, Mahsa Motamedi, Zeina Sfeir, Ben Amy and Antoine Khalife who together bring over 20 years of local, regional and international experience.