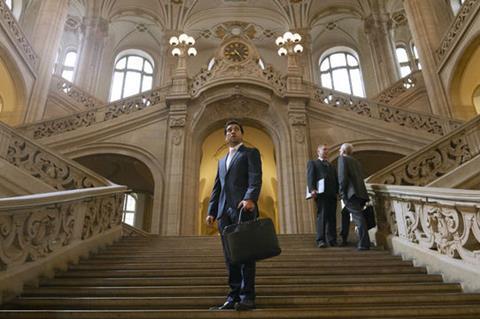 German sales outfit Global Screen has picked up two high-profile completed titles from Constantin FIlm: Marco Kreuzpaintner's courtroom thriller The Collini Case, and Sönke Wortmann's hit comedy How About Adolf? ahead of the European Film Market next month.

The Collini Case is based on Ferdinand von Schirach's novel of the same name about an explosive murder trial. It was a sensation when it was published in Germany in 2011 as it featured a character based on von Schirach's own infamous grandfather, the leader of the Hitler Youth during the Second World War. Franco Nero plays a man who commits a murder seemingly in cold blood. Elyas M'Barek stars as the lawyer who takes on his case and untangles a crime stretching back to the Nazi era. Alexandra Maria Lara also stars.
Constantin is releasing the film in Germany on April 18.
The Collini Case is a co-production between Constantin Film and Seven Pictures and has been produced by Christoph Müller, Kerstin Schmidbauer and Marcel Hartges. It was backed by Medienboard Berlin Brandenburg (MBB), FilmFernsehFonds Bayern (FFF), the German Federal Film Board (FFA), and the German Federal Film Fund (DFFF).
The second new Constantin project on Global Screen's EFM slate is satirical comedy How About Adolf?, which has already posted one over million admissions after nine weeks in cinemas. Like The Collini Case, the film explores how the generations born after the Second World War grapple wtih guilt and angst over the country's Nazi's past.
The film was produced by Tom Spiess and Marc Conrad, and executive produced by Martin Moszkowicz. It was financed by Film- und Medienstiftung NRW, the FFA, the FFF and the DFFF.
Global Screen is holding market screeings of How About Adolf? and screening a teaser trailer of The Collini Case.