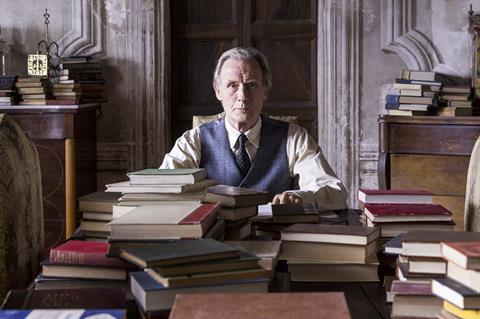 Handia, a film inspired by the true story of an unusally tall man from the Basque country who became a circus attraction in the 19th century, has received 13 nominations for the Spanish Film Academy Awards. Among the Goya favourites are also Isabel Coixet's The Bookshop – with 12 nominations – and Carla Simón's Summer 1993.
Directed by Aitor Arregi and Jon Garaño, who previously teamed up for Loreak, Handia premiered at the San Sebastian Film Festival where it won the special jury prize. Its Goya nominations include best film, best director, best original screenplay and best production design.
Isabel Coixet's The Bookshop, adapted from Penelope Fitzgerald's novel set in 1950s England, scooped 12 Goya nominations including best film, best director, best actress for Emily Mortimer and best supporting actor for Bill Nighy. The film has taken more than €2m in Spain to date and will be a strong contender at the 32nd edition of the awards which take place on February 3 in Madrid.
Another strong contender from a female director is Summer 1993 by Carla Simón. Winner of a best first film prize at the Berlinale and selected as Spain's foreign-language Oscar entry, the intimate story about childhood has been nominated for eight Goya awards.
Black comedy The Author, by Manuel Martín Cuenca, also has eight nominations, including best film, best director, best actor for Javier Gutiérrez, and best supporting actor for Antonio de la Torre, who rarely fails to make it to the Goya nominees list, and who this year is also a candidate for best actor for Pablo Berger's Abracadabra, another movie which boasts eight Goya nods.
Loving Pablo, the biopic of Colombian drug lord Pablo Escobar, achieved nominations for stars Javier Bardem and Penélope Cruz.
The nominees for best European film are C'est La Vie, Lady Macbeth, The Square and Toni Erdmann while those selected for best Latin American film are Zama, A Fantastic Woman, Amazona and Tempestad.