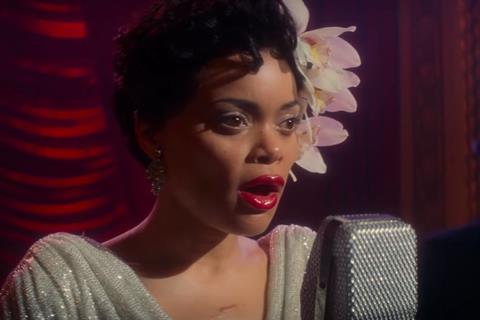 Hulu has confirmed February 26 as the awards-qualifying US debut of The United States vs Billie Holiday, a relatively late awards season entry that is generating strong buzz for Andra Day's performance as the celebrated jazz singer.
Paramount had been set to distribute until financier New Slate Ventures recognised the current pandemic landscape, in which roughly 40% of US cinemas are open, was unsuitable for a theatrical launch.
A deal was struck with Hulu in December and the film will debut solely on the platform in the US, with no theatrical component. Paramount previously set a February 26 release date. Sierra/Affinity will continue to handle international sales.
The Hulu Original film directed by Lee Daniels. centres on the federal government's mandate to stop Holiday from performing Strange Fruit, a ballad protesting the lynching of Black Americans in the South.
Trevante Rhodes plays an undercover agent who ends up having an affair with Holiday after he is dispatched to infiltrate her inner circle. Suzan-Lori Parks wrote the screenplay.
The cast includes Natasha Lyonne, Garrett Hedlund, Miss Lawrence, Rob Morgan, Da'Vine Joy Randolph, Evan Ross, Tyler James Williams, Tone Bell, and Erik LaRay Harvey.
New Slate Ventures, Lee Daniels Entertainment, and Roth Kirschenbaum Films are producing with Jordan Fudge, Daniels, Pamela Oas Williams, Tucker Tooley, Joe Roth and Jeff Kirschenbaum.
Hilary Shor, Jeremy Allen, Patty Long, Johann Hari, Cassian Elwes, Mark Bomback and Dennis Stratton serve as executive producers.