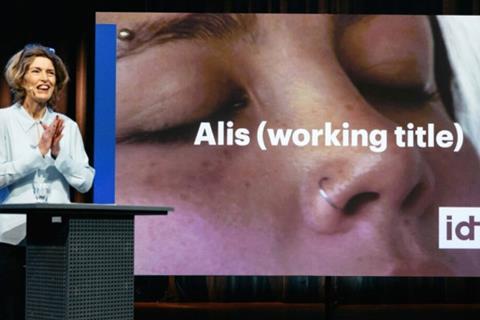 The IDFA Forum Best Project prize, worth $2,900 (Euros 2,500), has been awarded to Alis (working title) by Colombian directors Clare Weiskopf and Nicolas van Hemelryck.
The film looks at teenage girls growing up on the streets of Bogota, all of them yearning to break the cycle of violence and build themselves a better life.
Weiskopf and van Hemelryck's second feature follows their award-winning Amazona.
A jury consisting of Gitte Hansen, Lisa Chanoff and Luis González Zaffaroni said, "The filmmakers aim to facilitate, capture and show the process of empowerment of young female protagonists coming from the harshest life-conditions in the streets of Bogota.
"The filmmakers' artistic vision is organically connected with an original and playful method in documentary filmmaking by using imagination."
Rough Cut prize
The IDFA Forum Rough Cut prize, worth $1,170 (Euros 1,000), went to Farah Kassem's We Are Inside, produced by Cynthia Choucair for Road2Films. The jury said it offered "access to an intimate and personal world from a woman's point of view, using the poetry of the words and the cinema as a key to look at a society, a culture and a relationship between daughter and father, while the Lebanese October revolution emerges outside".
An honourable mention went to Justice Under Suspicion by Maria Ramos, a Brazil-French documentary that looks at the "car-wash" anti-corruption criminal investigation which began in Brazil in 2014.
The IDFA DocLab Forum award, judged by Joāo Inada, Margaux Missika and Janine Steel, went to Inside: A Journey Into The World Of Outsider Artist Judith Scott, from director Sacha Wares. The installation and VR film explores connections between the artist's work and the extraordinary circumstances of her life. The UK-Canadian co-production is produced by Toby Coffey for National Theatre.
The jury explained, "Inside spoke to us on multiple levels – clarity and conciseness in presentation, supported by beautiful visuals; its innovative, multi-tiered approach in bringing Judith and Joyce's story to light and reflecting Judith's lived reality in the storytelling and design; and its emotional resonance."
An honourable mention was given to The Pulp, an AR documentary from Germany's Aubrey Heichemer.
A special tongue-in-cheek award for the online edition of IDFA Forum was the Best Zoom Background prize, which went to Jessica Raspe of Dutch public broadcaster AVROTROS. "It was so special to see people in their own homes. It was a kind of intimacy you don't normally have," Raspe commented of her own chance to peek at other people's homes.
Positive response to online event
The Forum Prizes were awarded on Friday evening (November 20) at a special ceremony in Amsterdam hosted by IDFA industry head Adriek van Nieuwenhuijzen, and Yorinde Segal, Forum manager.
The event was attended (virtually) by many of the filmmakers who had been pitching their new documentary projects over the last five days as well as by the commissioners, distributors and sales agents who had been listening to their pitches.
There has been a largely positive response from industry attendees to moving online. Even if they miss being together in person, delegates have praised the efficiency with which the IDFA organisers staged the event.
"It would have been much, much more fun if it had been live, but I think IDFA did a great job in getting the virtual market going," said Submarine's Femke Wolting, a leading Dutch documentary producer, summing up the feeling many shared. "In the circumstances, I thought it was really good."
"The market programme just ended but the festival just started," the organisers declared on Friday night before inviting participants to join them in the "catch-up room" for some virtual socialising and digital "distance disco" dancing.
The festival continues until December 6.