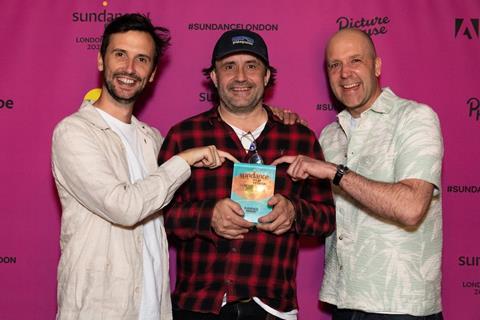 Jim Archer's comedy Brian And Charles won the audience award at Sundance Film Festival: London on Sunday, June 12.
Archer was present to accept the award at Picturehouse Central, presented by Clare Binns, managing director at Picturehouse.
Brian And Charles is a comedy about a man who builds and befriends a robot. It is sold by Bankside Films, with Focus Features having acquired global rights following its Sundance premiere in January.
The four-day Sundance London event showcased UK premieres of 12 films from January's Sundance Film Festival, as well as Halina Reijn's SXSW title Bodies Bodies Bodies that had its UK premiere as the surprise film on Sunday. A24 will release in the US on August 5, with a UK-Ireland distributor yet to be confirmed.
The festival was the first and only in-person festival for Sundance director Tabitha Jackson, who will leave her role from next week. It was the first edition as producer for Wendy Mitchell, who is also contributing editor and Nordic correspondent for Screen.
An expanded industry programme was a key component of the 2022 edition and included in-conversation sessions with Jackson and leading figures from the UK's public film funds; plus a keynote address from producer Christine Vachon. 220 industry accreditations were issued across speakers and attendees.
"Because it's such a mellow atmosphere, it's easy for industry to talk to artists and artists to talk to industry – and that's how magic happens," said Jackson. "It still is an industry which depends on relationships, which is both good, and difficult if you don't have the resources."
Attendees at the 2022 event included Sophie Hyde, Emma Thompson, Daryl McCormack and Katy Brand for opening film Good Luck To You, Leo Grande; producer Simon Chinn and director Ed Perkins for Princess Diana documentary The Princess; Sara Dosa and Hanna Bergholm for their films Fire Of Love and Hatching; and David Earl and Charles Hayward, stars of Brian And Charles.
Previous winners of the Sundance London audience award include Lulu Wang's The Farewell in 2019, which went on to a Bafta nomination; Bo Burnham's Eighth Grade in 2018; and Bryan Fogel's Icarus in 2017.