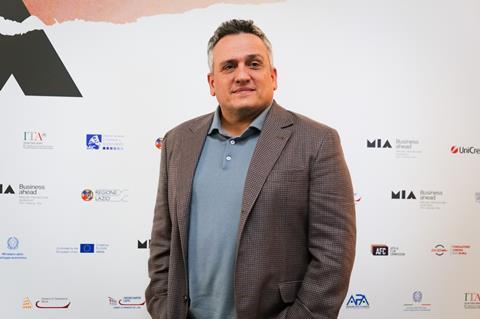 Joe Russo took to the stage at the MIA film and TV market in Rome on Thursday (October 14) for a wide-ranging conversation touching on his early career, his artist-led AGBO production company with brother Anthony Russo, the demise of the theatrical release, and upcoming projects.
The US director, writer and producer is best known for the quartet of Marvel blockbuster hits he directed with his brother, spanning Captain America: The Winter Soldier, Captain America: Civil War, Avengers: Infinity War, and Avengers: Endgame. He recounted, however, that their filmmaking roots were in arthouse, experimental fare.
Russo said he and his brother acquired a love of the French New Wave and world cinema at the Cleveland Cinematheque as teenagers and then went on to make the "highly experimental, non-linear" debut feature Pieces. It cleared the cinema when it debuted at Slamdance in 1997 but led to them meeting future mentor Steven Soderbergh.
Nearly 25 years on, Russo credits Soberbergh's support and advice on content creation that was both commercial and artistically strong. His counsel set them on the road to a stellar career that encompasses 2000s hit series Arrested Development, the Captain America and Avengers franchises as well as independent feature Cherry.
Russo emphasised that he and his brother – who currently have more than one billion dollars worth of production in the pipeline across different projects – are also determined to "to pay it forward" by nurturing a diverse range of up-and-coming talent to share their stories.
Screen caught up with Russo after the talk to elaborate on some of his points.
You made a bit of a bombshell statement at the very end of the conversation when you said you didn't see "a resurgence of independent film in theatres" as the impact of the pandemic starts to subside? Did you really mean it?
I think we're in a transition. I've got four kids at home and I see every day how they consume content. They do not have the same emotional connection to a movie that we do. We all control media right now, so the perception is that movies are critical, that theatres are critical to the existence of storytelling. They're not and will become irrelevant at some point. And those generations will become relevant and dominant, and the way they tell and consume stories is very different from the way we do. In fact, I think they take it as a point of pride to do it differently. I don't see a world, moving forward. Maybe there is a small world, there's a bubble, but that bubble will pop pretty quickly because they will want to do things differently and technology will keep reinforcing that notion for them.
You mentioned a number of times how much you loved the hit Korean series Squid Game. Is it a property you might consider acquiring at AGBO for a remake?
Here's the thing that is compelling and where digital distribution has tremendous value. If a trade-off in the death of cinema is that we get more access to regional voices that traditionally would not have had access to a broad international audience then that it is a great trade-off.
You don't need to remake Squid Game because everyone in the world has seen already seen Squid Game. It's beautiful filmmaking, incredible acting and the last three episodes are the best three episodes of television I've seen in 10 years.
What is also great about digital distributors is the idea that subtitles have come back and no-one cares. Everybody is craving fresh ideas and surprises and they're OK reading the dialogue if it affords them a fresh idea or a surprise.
One of the things that has brought you to MIA is your collaboration with Italian producer Riccardo Tozzi at Rome-based Cattleya on the upcoming multi-territory series Citadel you're in the midst of creating for Amazon Prime Video. Has the Italian part started shooting yet?
They are completing development on it. The flagship show has been shooting in London. It's almost done on its first season. Once that gets released then the series of other shows will get released. I believe the Italian show is first, and then there will be an Indian show and a Mexican show.
Are any other territory versions in the works?
Not as yet but there might be in Season Two.
Can you give a few more details about the storyline?
It's under wraps. It's a big world set against the backdrop of a thriller. Each show features complimentary narratives, set in different locations, using different characters but are all tangentially associated with one of the two major organisations that are in the show.
The drama scene is booming here in Italy and wider Europe. Are you looking to do other projects in the region?
We'd love to. We're excited by the idea of working with artists globally for the same reason that audiences are excited to watch content from global artists, for the fresh and surprising approach. Also, we feel we owe karma debt to the universe for our careers. We would not be here if Steven Soderbergh had not held open the door for us. We were outsiders. We were never part of the establishment. Only another outsider like Steven who had come to the business in an unorthodox way, through breaking through at Sundance [with Sex, Lies And Videotape], understood what it was like. He understood that he needed to open the doors for others and now it's our job to do the same. We feel most compelled to do that for more regional artists from parts of the world that are not being heard.
Beyond mentoring up-and-coming talent, why is this idea of supporting diverse voices so important to you?
We're committed to the notion that the more diverse voices are heard the better the world is and if we can help those diverse voices, we'll do it.
Do you think that comes in some part from the fact that you grew up with a strong sense of your Italian heritage?
I think so but we also grew up in Cleveland, Ohio, which was really viewed a bit like Newcastle [in the UK]. It's a tough working class town that is made fun of by everyone else. We were outsiders. We didn't waltz into Hollywood and get a standing ovation. Everybody walked out of the theatre at our first movie. We never felt we were part of the establishment. We were always working outside of the establishment and I think that sense of being underdogs has fostered our appreciation for supporting other underdogs.
Another project you announced recently is the feature adaptation of the Japanese anime series Battle Of The Planets for which Daniel Casey is writing the script, in his first major screenplay since Fast And Furious 9. Do you have any updates on that?
We're just off on script on that. We took two years to acquire the rights to it and to settle that all up and the way we work at our company, it usually takes us a year to go to script because we'll do complementary artwork and investigate the world of the story, write a bible, write bios, so we have a deeper understanding of the story when we actually go to script… usually when we go to script we do it quickly.
A new teaser trailer for Extraction 2 shown by Netflix at its Tudum event earlier this month suggests that Chris Hemsworth will return in the role of the protagonist Tyler Rake, who appeared to die at the end of the original series? Can you reveal a bit more detail? Is it a prequel or a sequel?
It's more fun to keep people in the dark. It will be answered when they watch the show. It will be a surprise.
Given that you have all the global platforms knocking at your, why did you decide to go the independent production route for your 2021 film Cherry, launching it via Endeavor Content in Cannes in 2019, ahead of its sale to Apple?
We knew it was a very unique movie and it would be very personal for us and we were at the point we could be independent with it. It's not like it has been difficult to work with the streamers; they're actually easier to work with creatively than most studios because they have deeper pockets. There is less at stake so there is less fear with executives which is refreshing. We felt Cherry would be best served by not having any kind of interference.