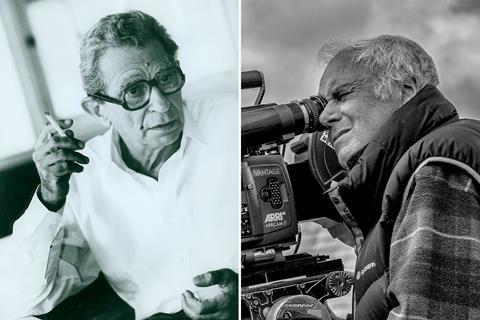 The 54th Karlovy Vary Film Festival (June 28-July 6) will honour Czech cinematographer Vladimír Smutný and Egyptian director Youssef Chahine.
Smutný, a seven-time winner of the Czech Lion for best cinematography, will receive the KVIFF President's Award. His best-known work includes films with Jiří Svoboda (Encounter With The Shadows, End Of The Lonely Farm Berghof and Scalpel, Please) and Jan and Zdeněk Svěrák (the Oscar-winning Kolya, Dark Blue World, Empties, Kooky and the Svěrák's most recent film Barefoot).
Egyptian filmmaker Youssef Chahine (1926-2008), a five-time Palme d'Or nominee and Silver Bear winner (for Alexandria Why? in 1979), will be honoured at KVIFF with a retrospective of 11 remastered films, comprising early lesser-known works and internationally recognised classics.
The retrospective is one of the biggest of its kind and follows a major restoration project carried out over the past few years by the director's production house, Misr International Films.
The festival will also commemorate the 30th anniversary of the Velvet Revolution (the peaceful transition of power from the Czech communist party to a democracy in 1989) with seven films shot between 1989-1992. They will include Tomáš Vorel's Smoke and Irena Pavlásková's Time Of The Servants.
KVIFF will also continue its tradition of presenting digital restored versions of local classics by premiering key 1960s Czechoslovak New Wave title The Cremator, directed by Juraj Herz.
Industry strands
The KVIFF industry program, re-branded as 'Eastern Promises' last year, sees the return of the Works in Progress award for projects in post-production. The winner will receive a post-production package worth €100,000 ($113,157) from UPP, Soundsquare and Barrandov Studio. Last year Ahmad Ghossein's All This Victory took home the award.

Additionally, the Works in Development — Feature Launch platform will see filmmakers from Central and Eastern Europe present projects in development to potential co-producers. There will be a €10,000 ($11,315) prize for the best project.
The Eurimages lab project award, awarded to films that push the boundaries of traditional filmmaking, will once again see $50,000 ($56,542) go to the winning title.
The Docs in Progress strand offers a $5,000 ($5,657) prize. The award, presented at Karlovy Vary for the first time last year, went to Yuriy Shylov's The Projectionist.