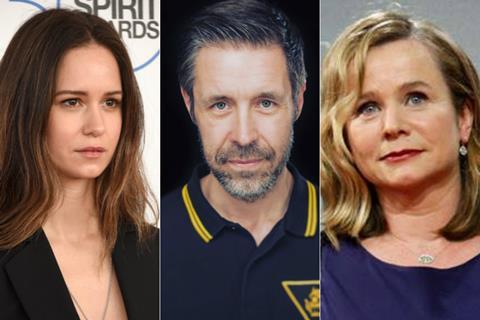 Casting is rounding out on Sky/HBO series The Third Day, which starts shooting in the UK this month.
Screen understands that Katherine Waterston, Paddy Considine, and Emily Watson have all joined the previously announced Jude Law in the project.
The six-part high-end TV series comes from US producers Plan B Entertainment and UK producer Adrian Sturges. Immersive theatre company Punchdrunk International is also involved in the production of the series, a first venture into TV for the company.
Marc Munden (National Treasure) is directing. Dennis Kelly is writing with Kit de Waal and Dean O'Loughlin.
It has been co-commissioned by Sky and HBO. The series is the first original drama to be produced by UK broadcaster Sky's new production house, Sky Studios.
Law stars as a man drawn to a mysterious island off the UK coast who is thrown into the unusual world of its secretive inhabitants and is confronted by a trauma from his past.
Production kicks off later this month, with the series set to air in the UK and Ireland next year on Sky Atlantic and streaming service NOW TV, and in the US on HBO.