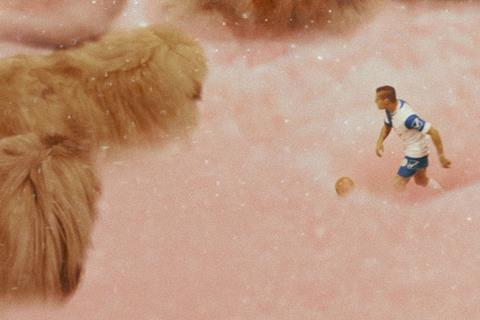 Kino Lorber has acquired US rights to Gabriel Abrantes and Daniel Schmidt's Franco-Brazilian-Portuguese comic fantasy Diamantino, winner of the Grand Prix at this year's Cannes Critics Week.
The filmmakers' directorial debut will receive its North American premiere in Toronto next month as the Midnight Madness closing film. A US premiere will follow in the New York Film Festival's Projections programme.
Diamantino stars Carloto Cotta as the world's top football star who loses his magic touch and ends his career in disgrace. Searching for a new purpose, he sets out on a delirious odyssey where he confronts neo-fascism, the refugee crisis, genetic modification, abuse at the hands of his evil twin sisters, and a deranged hunt for the source of genius.
Kino Lorber plans a May 2019 theatrical release, followed by VOD and home video. CEO Richard Lorber brokered the deal with Charades chief Carole Baraton.
"We were ecstatic in Cannes with this un-synopsisable theme park ride of a film whose ideas, vision and narrative arc do loop-de-loops at a breathless pace," said Lorber. "We can't wait to bring such an amazing, brainy cinematic marvel to American audiences who have come to expect no less from Kino Lorber – they'll get even more than they bargained for this time."
Abrantes and Schmidt added, "We're super excited to join with Kino Lorber to bring this movie to the US. They've released some of our favorite recent films, including Dogtooth and Arabian Nights. We can't wait to see what audiences think of Diamantino."