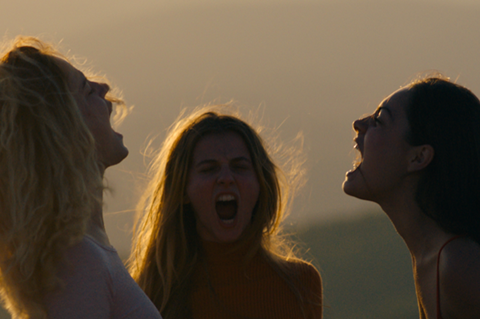 Le Pacte has taken French rights to Directors' Fortnight selection The Hill Where Lionesses Roar by French-Kosovan director Luàna Bajrami from Loco Films in one of the first major deals for the film.
Set in a small provincial town in Kosovo, the first feature revolves around three teenage girls who embark on a series of heist-style robberies for the thrill of it.
Paris-based Loco Films acquired international sales to the film after it was presented at the Work in Progress event of the Les Arcs Film Festival in 2019 but has held it back over the course of the pandemic with the aim of securing it a Cannes selection this year.
Having just turned 20, Bajrami is the youngest female director to be selected for Directors' Fortnight in its 52-year history.
Best known in France as an actress, she was shortlisted by France's Cesar Academy in 2020 for its revelation award for her performance as the servant girl in Céline Sciamma's Portrait Of A Lady On Fire.
As well as directing, she has a supporting role alongside her young cast consisting of Era Balaj, Flaka Latifi and Urate Shabani and rising actor Andi Bajgora.
It marks the latest Cannes acquisition for Le Pacte, which had previously acquired a second Directors' Fortnight film, A Brighter Tomorrow, as well as Official Selection titles Tre Piani, Red Rocket, Deception, La Fracture and Flag Day.
"We were immediately blown away by the youthful and striking energy flowing all through the film. Its inspired and joyful maturity clearly marks the birth of a major director. We are thrilled and proud to be able to accompany her first steps behind the camera," said Le Pacte CEO Jean Labadie.
Loco Films head Laurent Danielou has a long track record in successfully scouting and selling features by emerging talents such as Xavier Dolan's I Killed My Mother and Nathan Ambrosioni's Papers Flag.