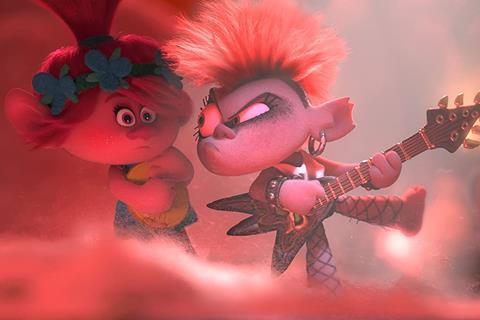 Leading South Korean exhibitors CJ CGV and Lotte Cinema have refused to screen DreamWorks animation Trolls World Tour after Universal Pictures announced plans to release the film day-and-date in theatres and on VoD in Korea on April 29.
Of the territory's top three multiplex chains, Megabox now looks to be the exclusive exhibitor for the musical animation sequel to 2016's Trolls.
CJ CGV and Lotte Cinema previously boycotted Netflix releases such as Bong Joon Ho's 2017 sci-fi Okja on the grounds of maintaining the usual holdback windows of at least two to three weeks for releases in South Korea.
Conversely, Megabox has previously screened Netflix films such as Okja, Martin Scorsese's The Irishman and Noah Baumbach's Marriage Story, and has been known to prioritise diverse content over holdback windows.
In Universal Pictures' recent case, the smashing of holdback windows is in response to coronavirus pandemic measures that are impacting cinema attendance around the world.
South Korean box office has recently hit new lows with Monday (April 6) seeing a mere total of 15,725 admissions, according to the Korean Film Council – down nearly 90% compared to the first Monday of April 2019.
Trolls World Tour, which centres on music battles between six different tribes, will have a Korean dubbed version with voiceover work from K-pop girl group Red Velvet member Wendy and K-pop boy group SF9's Rowoon.
According to current KOFIC data, CJ CGV has 1,265 screens while Lotte has 919 screens and Megabox 691.
Trolls opened in 507 theatres in South Korea in February 2017, some four months after much of the rest of the world, and took 675,966 admissions and KW5,011,161,500 ($4.11m), according to KOFIC.