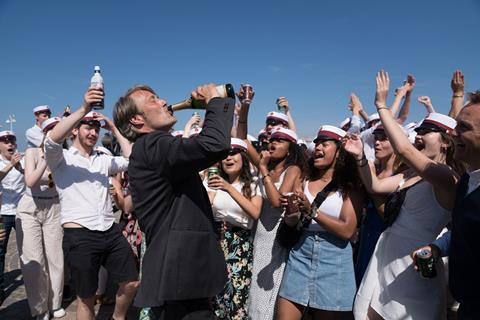 Endeavor Content and Makeready are financing an English-language remake of Danish Oscar winner Another Round after partnering with Appian Way on a project that could see Leonardo DiCaprio star in the Mads Mikkelsen role.
DiCaprio and his Appian Way partner Jennifer Davisson will produce with Makeready head Brad Weston and Negin Salmasi, and Endeavor Content.
Vinterberg's agents at ICM Partners orchestrated an auction over two weeks in the run-up to Sunday's (April 25) 93rd Oscar ceremony.
Vinterberg will serve as executive producer on the remake along with Sisse Graum Jørgensen and Kasper Dissing. The project is out to writers and it was unclear at time of writing who will direct.
The Danish original stars Mikkelsen as one of four vulnerable middle-aged men who start to drink more as a way of making life more exciting. Appian Way's Mike Hampton will oversee the remake.
Speaking to Screen recently, Vinterberg said he wanted his Danish 2020 box office champion and multi-festival selection (Cannes Label, Toronto, San Sebastian, London, and others) to be a film about living.
The Dane, who was also nominated for best director at Sunday's Oscar ceremony, dedicated the international feature film award to his daughter Ida, who died aged 19 in a car accident in the early days of production.
According to Deadline, which broke the story, other companies in the chase included Studiocanal partnering with The Picture Company and Jake Gyllenhaal and Riva Marker's Nine Stories, and Universal Pictures and Elizabeth Banks.