Ladj Ly's socio-political drama Les Misérables took an early lead on the Screen Cannes 2019 jury grid, with both it and Jim Jarmusch's festival opener The Dead Don't Die scoring slightly above the middle point.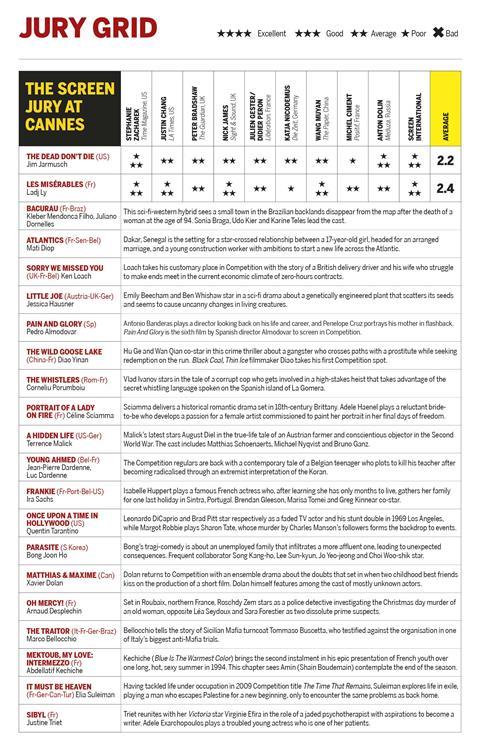 Les Misérables scored a mean of 2.4, although had a mode of three (good) from half of the critics. Only Die Zeit's Katja Nicodemus was less impressed, giving it a one (poor).
Ly's feature debut latest takes place in the under-funded Parisian suburb of Montfermeil (where Victor Hugo set his 19th century novel), and centres on three anti-crime brigade officers who are overrun whilst on duty.
Jim Jarmusch's zombie comedy The Dead Don't Die achieved similar marks for a 2.2 mean, although its dominant score was two (average). Michel Ciment of Positif was the least amused, giving it one; but it did receive multiple threes from Time's Stephanie Zacharek, Meduza's Anton Dolin and Screen's own critic.
The film sees three bumbling police officers and a drag-obsessed Scottish mortician team up to survive a zombie attack on their small town. Its ensemble cast includes Adam Driver, Bill Murray, Chloë Sevigny, Tilda Swinton and Selena Gomez.
The next titles to take their place will be Kleber Mendonça Filho's Bacurau about a Brazilian town that disappears from the map; and Atlantics by Mati Diop, the first black woman to have a film in Competition at Cannes.
Today's marks are the first that can be entered on the Screen jury grid poster. Simply check what our critics have awarded each film, and fill in the scores – plus your own. Share your results with us at @screendaily on Twitter, Facebook and Instagram.
If you're not in Cannes or cannot get hold of a copy of Screen but want to take part, the image of the grid is available to print here.