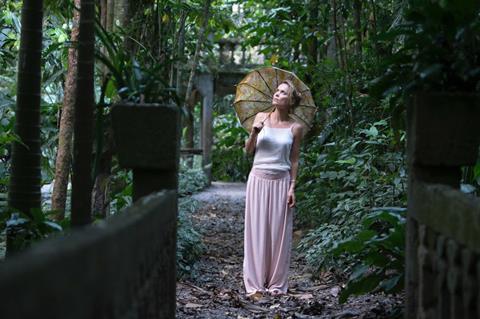 LevelK has boarded Australian filmmaker Ben Hackworth's second feature Celeste, which has its world premiere at Melbourne International Film Festival this week.
Radha Mitchell (Melinda and Melinda), Odessa Young (Assassination Nation), Thomas Cocquerel (Table 19), and Nadine Garner (The Book of Revelation) star in a tale of desire and redemption.
Lizzette Atkins of Melbourne-based Unicorn Films (Looking for Grace) developed Celeste and is producing alongside Raphael Cocks. The screenplay is written by Ben Hackworth and the late renowned Australian actor Bille Brown.
The film is financed by Screen Queensland, the Producer Offset and a group of private investors.
Set in the rainforest of Northern Queensland, the story follows Celeste (Radha Mitchell), a celebrated opera singer who retired early from the stage. Now, 10 years after the tragic death of her husband, Celeste prepares for one final performance.
Hackworth said, "The idea for Celeste came to me when I discovered an extraordinary architectural folly in the middle of a jungle in tropical North Queensland. The structures and walkways were labyrinthine and dreamlike, reminding me of the passages of the human mind, which the film mimics in its story of a young man as he seeks forgiveness."
Hackworth's debut feature Corroboree played at Toronto 2007 and Berlinale 2018; his 2001 short Martin Four was selected for Cannes Cinefondation.