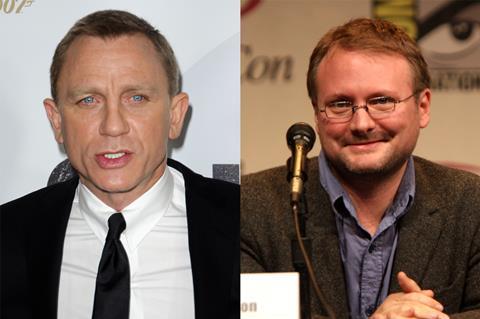 Lionsgate will release the murder mystery Knives Out starring Daniel Craig and directed by Rian Johnson over the US Thanksgiving weekend on November 27, 2019.
Jamie Lee Curtis and Chris Evans will also star in the film, which CAA Media Finance and FilmNation introduced in Toronto and licensed the world to MRC within days. Lionsgate subsequently acquired global distribution rights.
Rounding out the cast are Michael Shannon, Toni Collette, Lakeith Stanfield, Ana de Armas (Blade Runner 2049), Don Johnson, Katherine Langford (13 Reasons Why), and Christopher Plummer. Johnson will produce with longtime partner Ram Bergman through their new untitled company.
Johnson directed Star Wars: The Last Jedi and are working on an upcoming Star Wars trilogy. However Knives Out is a return to the independent scene that made his name with acclaimed titles like Brick and Looper, albeit at a high budget level after reports in Toronto said MRC had made a $40m-plus commitment.
"We're very excited to be in production on Knives Out and can't wait to bring it to the big screen with great partners like MRC and Lionsgate," said Johnson and Bergman. "MRC put their trust in us when they first partnered with us on this film and Lionsgate truly champions and empowers the artist to tell the story they want to tell so we couldn't be in better hands."
"Knives Out redefines the detective movie genre in a cool and original way," said Lionsgate motion picture group chairman Joe Drake. "With a superstar filmmaker, an amazing ensemble cast and the perfect partner in MRC, we can hardly wait to bring this big, crowd-pleasing property to a global audience next Thanksgiving."
"We are very excited to partner with Lionsgate on Knives Out," said MRC co-presidents of film Brye Adler and Jonathan Golfman. "The entire Lionsgate team was incredibly impressive and could not have been more passionate about the project. We're looking forward to working together to help bring Rian's original and highly entertaining movie to the world."