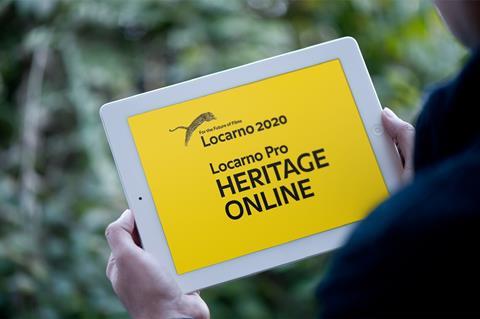 Locarno Pro, the industry component of the Locarno Film Festival, is gearing up to launch a new digital market platform aimed at supporting the distribution of library titles, called Heritage Online.
It is one of the first 2020 initiatives announced by Locarno Pro since its parent festival took the decision in April to cancel its 73rd edition due to the Covid-19 pandemic and run instead a special programme called Locarno 2020 – For the Future of Films.
The aim of the Heritage Online platform is to connect library titles rightsholders, from sales agents to institutional archives, with digital distribution platforms that may be interested in acquiring their content.
Under the initiative, rightsholders will be able to promote a selection of their catalogue on the platform via a basic subscription, costing $87 (85 CHF), or a premium subscription, priced at $164 (160 CHF), which will enable then to screen a selection of films to buyers over the course of a year.
Long-time Locarno Pro project manager Markus Duffner is overseeing the initiative.
"Our new project Heritage Online fills a gap in the audiovisual industry landscape and will foster links between rightsholders, VoD platforms and world cinema distribution," he said.
Registration for the platform will open in July in the run-up to the special online edition of Locarno Pro, which has retained its planned dates of August 7 to 9. There will also be a series of dedicated online events, including pitching sessions, during Locarno Pro and then the platform will continue as a permanent initiative running all year round.
"The streaming marketplace is playing an ever greater part in daily viewing patterns, which is why Locarno Pro focused on this new development. It is vital that these new offerings extend to include the broadest possible range of genres and titles. In this perspective, Heritage Online will enable all viewers, even those who rarely go to theaters or festivals, to discover films from the past and enrich their cinema experience," said Locarno Pro chief Valentina Merli.
The 2020 edition of Locarno Pro will mark Merli's first edition at the helm after she took over from its long-time chief and creator Nadia Destri at the beginning of the year.
Other Locarno Pro initiatives will be announced in the coming weeks, kicking off with Open Doors which supports cinema and filmmaking talents from countries in the Global South and East, the current focus of which is on South-East Asia and Mongolia.