World premieres include WWI drama Testament of Youth, Carol Morley's The Falling and sci-fi sequel Monsters: Dark Continent.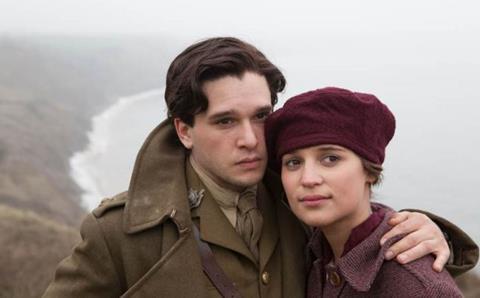 The line-up for the 58th London Film Festival (Oct 8-19) has been revealed this morning and it is packed with awards contenders and the best of this year's festivals.
Titles already generating awards buzz that will receive gala screenings at LFF include Bennett Miller's Foxcatcher, starring Steve Carell, Channing Tatum and Mark Ruffalo, and Damien Chazelle's Whiplash, which proved the breakout hit at Sundance.
Other galas will give European premieres to Jason Reitman's Men, Women & Children, starring Adam Sandler and Ansel Elgort with a racy voiceover by Emma Thompson, and biopic Wild, starring Reese Witherspoon and directed by Jean-Marc Vallee.
Mike Leigh's Mr Turner will also feature among the main gala screenings as will the world premiere of Testament of Youth, a First World War drama starring Game of Thrones' Kit Harrington and Alicia Vikander.
The festival programme will again be organised into categories clustered around the themes of Love, Debate, Dare, Laugh, Thrill, Cult, Journey, Sonic and Family.
Each will be headlined with a gala. They are:
Love
A Little Chaos, Alan Rickman
Debate
Rosewater, Jon Stewart
Dare
Mommy, Xavier Dolan
Laugh
Wild Tales, Damian Szifron
Thrill
The Salvation, Kristian Levring
Cult
The White Haired Witch of Lunar Kingdom, Jacob Cheung
Journey
Winter Sleep, Nuri Bilge Ceylan
Sonic
Bjork: Biophilia Live, Peter Strickland and Nick Fenton
Family
Song of the Sea, Tomm Moore
As previously announced, LFF opens with The Imitation Game starring Benedict Cumberbatch and closes with Brad Pitt tank thriller Fury – both European premieres.
A total of 245 features and documentaries make up the festival including 16 world premieres, nine international premieres, 38 European premieres and 19 archive films, including two restoration world premieres. There will also be 148 live action and animated shorts.
AWARDS AND COMPETITIONS
The Best Film Award will again be handed out in Official Competition; the Sutherland Award in the First Feature Competition and the Grierson Award in Documentary Competition. Each section is open to international and British films.
OFFICIAL COMPETITION
The Official Competition line-up, recognising inspiring, inventive and distinctive filmmaking, includes the following:
* Peter Ho-Sun Chan, DEAREST
* Peter Strickland, THE DUKE OF BURGUNDY (European Premiere)
* Carol Morley, THE FALLING (World Premiere)
* Ana Lily Amirpour, A GIRL WALKS HOME ALONE AT NIGHT
* Céline Sciamma, GIRLHOOD
* Daniel Barber, THE KEEPING ROOM (European Premiere)
* Andrey Zvyagintsev, LEVIATHAN
* François Ozon, THE NEW GIRLFRIEND
* Christian Petzold, PHOENIX
* Mohsen Makhmalbaf, THE PRESIDENT
* Julius Avery, SON OF A GUN (European Premiere)
* Abderrahmane Sissako, TIMBUKTU
FIRST FEATURE COMPETITION
Titles in consideration for the Sutherland Award in the First Feature Competition recognising an original and imaginative directorial debut are:
* Yann Demange,'71
* Josephine Decker, BUTTER ON THE LATCH
* Daniel Wolfe, Matthew Wolfe, CATCH ME DADDY
* Zeresenay Berhane Mehari, DIFRET
* Franco Lolli, GENTE DE BIEN
* Guy Myhill, THE GOOB
* Adityavikram Sengupta, LABOUR OF LOVE
* Sudabeh Mortezai, MACONDO
* Debbie Tucker Green, SECOND COMING
* Ester Martin Bergsmark, SOMETHING MUST BREAK
* Naji Abu Nowar, THEEB
* Myroslav Slaboshpytskiy, THE TRIBE
DOCUMENTARY COMPETITION
The Grierson Award in the Documentary Competition category recognises cinematic documentaries with integrity, originality, and social or cultural significance. This year the Festival is screening:
* Nadav Schirman, THE GREEN PRINCE
* Jean-François Caissy, GUIDELINES
* Randall Wright, HOCKNEY (World Premiere)
* Jason Sussberg, David Alvarado, THE IMMORTALISTS (European Premiere)
* Ulrich Seidl, IN THE BASEMENT
* Sergei Loznitsa, MAIDAN
* Frederick Wiseman, NATIONAL GALLERY
* Sabine Lubbe Bakker & Niels van Koevorden, NE ME QUITTE PAS
* Edward Lovelace & James Hall, THE POSSIBILITIES ARE ENDLESS (European Premiere)
* Ossama Mohammed & Wiam Simav Bedirxan, SILVERED WATER, SYRIA SELF-PORTRAIT
* Debra Granik, STRAY DOG
* Lynette Wallworth, TENDER (European Premiere)
BEST BRITISH NEWCOMER
Closing the Awards section is the prize for Best British Newcomer which highlights new British talent and is presented to an emerging writer, actor, producer or director. This year's nominees are:
1. Guy Myhill – Writer/Director THE GOOB
2. Florence Pugh – Supporting Actor THE FALLING
3. Sameena Jabeen Ahmed – Actor CATCH ME DADDY
4. Rebecca Johnson – Writer/Director HONEYTRAP
5. Taron Egerton – Actor TESTAMENT OF YOUTH
6. Daniel Wolfe & Matthew Wolfe – Writers/Directors CATCH ME DADDY
7. Alex Lawther – Supporting Actor THE IMITATION GAME