Prehistoric comedy adventure comes from the makers of Shaun The Sheep and Wallace And Gromit.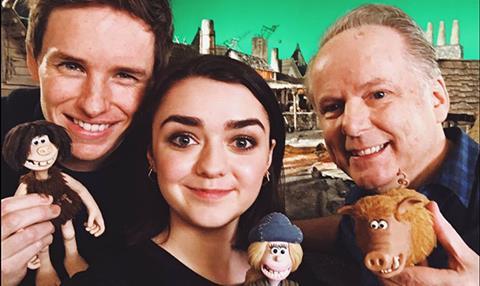 Former Screen Star of Tomorrow Maisie Williams has joined the voice cast of forthcoming Aardman Animation feature Early Man.
She lines up alongside a cast that already includes Oscar-winner Eddie Redmayne and The Night Manager star Tom Hiddleston.
The actress confirmed the news via her Twitter page.
Production is currently underway at Aardman's UK studios in Bristol on the feature, an animated prehistoric comedy adventure about a plucky caveman [Redmayne] who unites his tribe against the mighty Bronze Age in a battle to beat them at their own game.
Williams will voice the character Goona, a gallant and indomitable rebel who befriends the film's hero.
Oscar-winning Chicken Run and The Curse Of The Were-Rabbit director Nick Park is helming the film. He commented: "Maisie is a terrific actress, and she is of course no stranger to embodying a valiant heroine. I'm most excited to see her breathe life into Goona – I know she'll be the perfect ally to Eddie's Dug".
Williams added: "I'm a huge Aardman fan - having the chance to work with Nick Park is a dream come true, especially as I get to voice such a fantastic character as Goona. I can't wait for audiences to meet her".
Aside from her part in HBO's Game Of Thrones as the character Arya Stark, Williams's film roles to-date include Carol Morley's The Falling and Adam Randall's forthcoming sci-fi iBoy, which was picked up by Netflix.
She is repped by Louise Johnston (Louise Johnston Management) and Duncan Millership (WME).
Studiocanal is co-financing and will distribute in its own territories - UK, France, Germany, Australia and New Zealand - and will sell worldwide.
The BFI is supporting the development and production of Early Man with National Lottery funding.
Early Man is scheduled for a UK release January 26, 2018.