Documentary from the director of An Inconvenient Truth centres on inspirational young Pakistani activist Malala Yousafzai.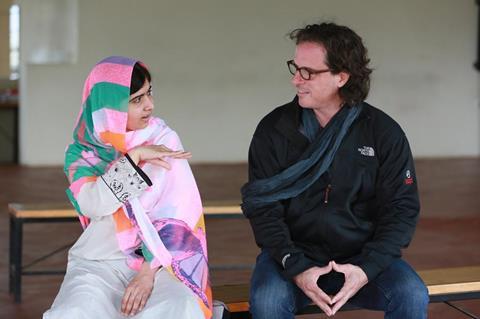 Fox Searchlight Pictures has acquired worldwide rights (excluding French-speaking territories) to documentary He Named Me Malala, directed by Davis Guggenheim, the Oscar-winning filmmaker behind Al Gore's eco-doc An Inconvenient Truth.
Studiocanal will distribute in France. The film is scheduled for release this year. There is speculation that the film may debut at the Cannes Film Festival in May.
The documentary is an intimate portrait of Malala Yousafzai, who was wounded when Taliban gunmen opened fire on her and her friends' school bus in Pakistan's Swat Valley.
The then 15-year-old, who had been targeted for speaking out on behalf of girls' education in her region of Swat Valley in Pakistan, was shot in the head, sparking international media outrage.
An educational activist in Pakistan, Yousafzai has since emerged as a leading campaigner for the rights of children worldwide and in December 2014, became the youngest-ever Nobel Peace Prize Laureate.
The film was produced by Walter Parkes and Laurie MacDonald under their long-term production partnership with Image Nation Abu Dhabi and is co-financed by Participant Media,
"Spending the last 18 months with Malala, her father Ziauddin and their family has been one of the great experiences of my life," said Guggenheim. "Now that Fox Searchlight is joining Image Nation and Participant Media, we have the opportunity to share their moving story with the world."
Executive producers include Mohamed Al Mubarak and Michael Garin from Image Nation Abu Dhabi and Jeff Skoll for Participant Media.
The deal was brokered by Fox Searchlight's evp of worldwide acquisitions Tony Safford; svp of business affairs Megan O'Brien; and svp of acquisitions and co-productions Ray Strache, and Julian Zajfen at Ziffren Brittenham, which represented the filmmakers.
In a call to millions of other girls around the world and those who stand with them, the film will also launch an international advocacy and fundraising campaign in partnership with the Malala Fund, Yousafzai's non-profit organization working to empower adolescent girls globally through a quality secondary education.