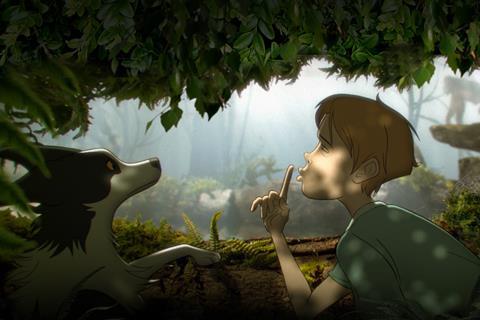 Kensuke's Kingdom, the feature animation based on a Michael Morpurgo's 1999 children's novel from the team behind Ethel & Ernest, has secured a sales deal ahead of Cannes with UK outfit Bankside Films.
The Railway Man screenwriter Frank Cottrell-Boyce has adapted Morpurgo's novel for the screen. Producers are Sarah Radclyffe, who co-founded UK powerhouse Working Title, Camilla Deakin and Ruth Fielding, the co-founders of Ethel & Ernest animation studio Lupus Films, with Barnaby Spurrier (Somers Town) and Stephan Roelants (Ernest & Celestine).
The project is being directed by Neil Boyle, whose credits as an animator include Sherlock Gnomes and Ethel & Ernest, and Kirk Hendry, whose short animation Junk was nominated for a BIFA in 2011.
In Kensuke's Kingdom, a young boy is taken by his family on a round-the-world sailing trip. When a storm strikes, he and his dog are washed overboard and end up marooned on a remote island in the Pacific. Unable to find food or water, he doesn't expect to last long, until he realises that a mysterious figure is watching over him.
Production is expected to get underway in autumn 2018. The film is a co-production between the UK, Luxembourg and Ireland. Production companies are Jigsaw Films, Lupus Films, Melusine Productions and Windmill Lane Pictures. Executive producers are Bill Godfrey, Courtney Pledger and Tim Morris. Associate producer is Anna Webster.
The project's development was backed by the BFI, Film Fund Luxembourg and Ffilm Cymru Wales.
Storyboarding and main animation will take place at Lupus' London studio, with additional animation and colouring taking place at Melusine Productions in Luxembourg, and compositing, VFX and post-production at Windmill Lane in Ireland.
Stephen Kelliher of Bankside Films commented: "Kensuke's Kingdom is an incredibly special story which has so much relevance to the world we live in today. Adapted from first class source material, it comes from a world class creative team who will execute the animation exquisitely, delivering a moving story which will resonate with audiences young and old."
Morpurgo added: "Of all the books I have written it is Kensuke's Kingdom that without question remains the most well-loved. And now it is to be an animated film for which Frank Cottrell-Boyce has written a wonderful screenplay that reflects the spirit of the story, with its strong message of the importance of reconciliation and friendship, and of living in harmony with our fellow creatures and with the world about us."