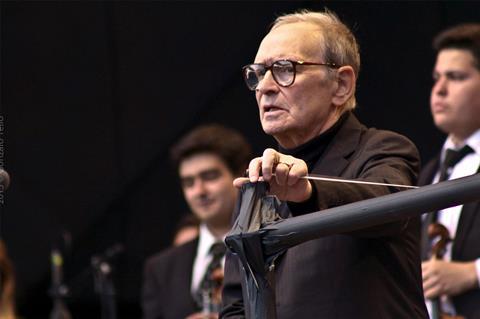 Further details have emerged of Giuseppe Tornatore's new feature documentary on the legendary composer Ennio Morricone (who scored the Oscar for Tornatore's Cinema Paradiso).
Gianni Russo and Gabriele Costa of Italian production company Piano B have come together with Peter De Maegd of Belgian production company Potemkino and San Fu Maltha of Dutch production outfit Fu Works to produce the film, which has the title Maestro Morricone: The Glance of Music.
Morricone's music for such films The Good, The Bad And The Ugly and Once Upon A Time In America is instantly recognisable to film fans all over the world.
The composer, now 88, has collaborated with Tornatore on 9 features. In preparation for the documentary, Tornatore has already conducted over 40 hours of interviews with his old friend.
"I always wondered what sort of documentary I would make about Ennio. And now, not only do I feel the time has come to realize my dream, but I also feel I have a good idea on how to do it," Tornatore said.
The aim is to have the film ready for Morricone's 90th birthday in 2018.
Piano B has worked with director Giuseppe Tornatore on several projects. Development on the documentary about Morricone started in 2016. Piano B was looking for experienced European producers who could help the film be completed in time for the 2018 deadline. Belgian producer De Maegd and Dutch producer San Fu Maltha have already worked together, on Peter Greenaway's Eisenstein In Guanajuato, in competition in Berlin in 2016.
"This team brings together the solid expertise and international network to close the financing of the feature film documentary which is aimed to premiere on 18 November 2018, the 90th birthday of Ennio Morricone," Piano B producer Gianni Russo commented.
The producers are set to appoint a sales agent but have already closed two pre-sales themselves, with Periscoop (Benelux) and Non Stop (Scandinavia).