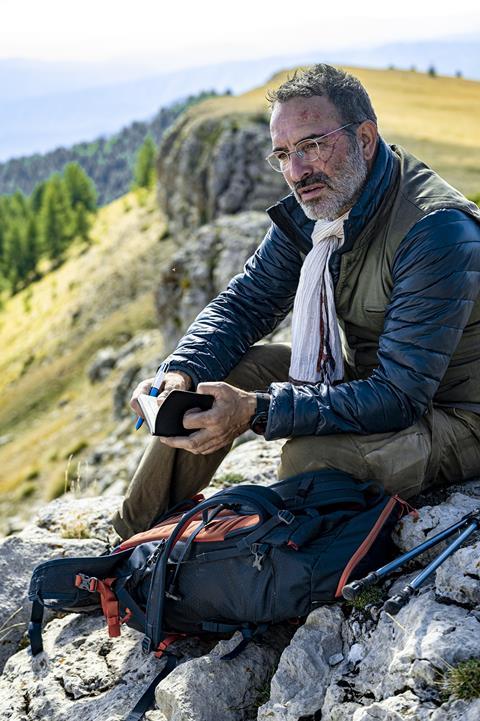 TF1 Studios-owned Newen Connect has unveiled new sales on Denis Imbert's hiking drama On the Wandering Paths and Philippe Lacheau's wacky wedding comedy Alibi.com 2.
On The Wandering Paths stars Jean Dujardin as a celebrated writer who decides to hike alone across France after falling from a building and waking up from a coma.
Following market screenings at Unifrance's January Rendez-Vous in Paris, Newen has sold the film to TVA in Canada, Vercine in Spain and X Verleih in Germany and Austria, New Cinema in Israel, Cirko in Hungary, and Pathe in Switzerland. Deals with Benelex, Italy and Portugal are currently in discussion. The film will hit French cinemas on March 22 via Apollo Films.
Produced by Radar Films, On the Wandering Paths is an adaptation of Sylvain Tesson's book of the same name and co-stars a cast of local young actors including Jonathan Zaccai, Joséphine Japy and Izïa Higelin. The film is Imbert's latest feature following 2020's Vicky And Her Mystery about a mute girl who bonds with a wolf.
Newen has sold comedy sequel Alibi.com 2 to TVA in Canada, CDC International for Latin America, PROROM for Eastern Europe, Les Films26 for French-speaking Africa, Megarama in Morocco, Spentzos in Greece, Pathe in Switzerland, Liberty Production in Benelux, Monolith in Poland and Blitz in former Yugoslavia. Discussions are underway for deals in Portugal, Israel and airlines. Studiocanal will release the film on February 8 in France.
Lacheau's Alibi.com was a hit in France that sold more than 3.58 million tickets during its 2017 release in France and the follow-up is the story of a man who is afraid to introduce his future wife to his criminal father and erotic film star mother, so gets his friends to help him find fake parents before getting embroiled in an even bigger web of lies and misadventures.
Newen Connect will continue sales on both titles at the upcoming EFM.
They will also continue sales on Marco La Via and Hanna Ladoul's comedy-drama Funny Birds starring Catherine Deneuve and executive-produced by Martin Scorsese, and two comedies; Pierre-Francois Martin-Laval's Mr.Putifard's Wacky Plan and Frédéric Forestier and Antonin Fourlon's Open Season.