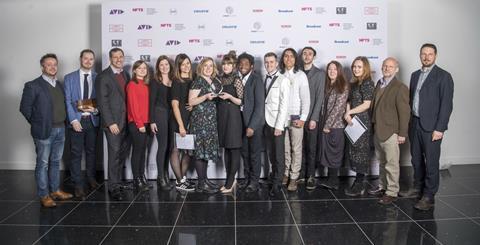 The 2018 National Film and Television School (NFTS) has revealed the winners of its 2018 prizes for graduating students.
The Graduation Showcase, which took place at Picturehouse Central between February 27-28, celebrated the last 12 months of graduate productions from NFTS students.
Key industry partners - AMD Studios, Avid, Christie, IOSH, Panalux and Sargent Disc – each presented individual awards to students who have demonstrated high levels of achievement for production.
Mdhamiri Nkemi, an NFTS graduating Editor, was awarded the Christie prize for 'Most Promising NFTS student' by Christie Partnership Manager Cindy Symons.
NFTS Head of Editing Richard Cox said: "The moment Mdhamiri walked through the NFTS gates it was obvious that here was a student full of enthusiasm and energy and potential. In an industry where the editor is invisible, and the best editing is seamless, Mdhamiri has the skill, passion and commitment to the craft of editing to get it noticed and understood."
The Panalux Prize for Cinematography, with the reward of a 5-day lighting hire package, went to graduating Cinematographer Matt Gillan. The jury for the prize described his work as "not overstated but very competently and smoothly operated with great proficiency, ease and overall flow."
As Screen revealed on Monday (26 Feb), Asif Kapadia, the Oscar and Bafta-winning director of Amy, received the NFTS honorary fellowship prize.
The NFTS was recently in focus at the BAFTAs, where current and previous directors Jon Wardle and Nik Powell accepted the Outstanding British Contribution to Cinema Award.
List of winners
· AMD 'Best Use of Technology in Film' – Niall Harty, Digital Effects MA student
· Christie prize for 'Most Promising NFTS Student' – Mdhamiri Nkemi, graduating Editor
· Panalux Prize for Cinematography – Matt Gillan, graduating Cinematographer
· Sargent-Disc awards for students graduating from the Production Management Diploma:

Best Overall Award – Emma Clarke
Scheduling Award – Jenny Martin
Budgeting Award – Alexandra McArdle

Institution of Occupational Safety and Health Award – Sabina Smitham, graduating producer, and Emma Clarke, graduating production manager
Avid Award for Excellence in Sound Design – Felipe Bolaño Pinedo, Sound Designer
Avid Award for Excellence in Editing – Conor Meechan