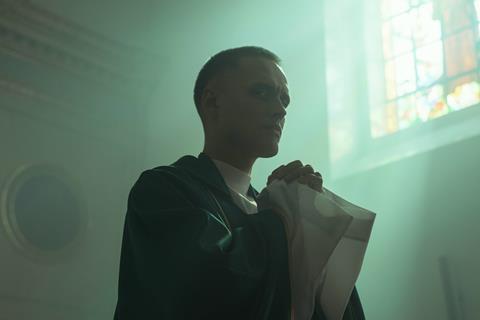 Polish and Dutch Oscar submissions Corpus Christi and Instinct are among the international competition line-ups announced by the 55th Chicago International Film Festival on Monday (16).
Most of the films screening in the festival's international sections are North American and US premieres and have already been selected to represent their country in the Academy's best international feature film race. They include Our Mothers (Belgium), and Spider (Chile).
Several of last year's festival selections represent their countries this season, among them Aga (Bulgaria), Joy (Austria), Dear Son (Tunisia) and Wolkenbruch's Wondrous Journey Into The Arms Of A Shiksa (Switzerland).
The 55th Chicago International Film Festival runs from October 16-27. Click here for more information.
New Directors Competition
Adam (Morocco-France-Belgium)
Dir. Maryam Touzani
US premiere
Bombay Rose (India-UK-Qatar-France)
Dir. Gitanjali Rao
US premiere
The Components Of Love (Germany)
Dir. Miriam Bliese
North American premiere
Instinct (The Netherlands)
Dir. Halina Reijn
US premiere
Just 6.5 (Iran)
Dir. Saeed Roustaee
North American premiere
Litigante (Colombia)
Dir. Franco Lolli
North American premiere
Maternal (Italy-Argentina)
Dir. Maura Delpero
North American premiere
Oleg (Belgium-Lithuania-France)
Dir. Juris Kursietis
North American premiere
The Orphanage (Denmark-Germany-France-Luxembourg-Afghanistan-Qatar)
Dir. Shahrbanoo Sadat
North American premiere
Our Mothers (Guatemala-Belgium-France)
Dir. César Díaz
North American premiere
Sheena667 (Russia)
Dir. Grigory Dobrygin
North American premiere
Sole (Italy-Poland)
Dir. Carlo Sironi
US premiere
A Thief's Daughter (Spain)
Dir. Bélen Funes
North American premiere
Wild Sparrow (Taiwan)
Dir. Shih Li
US premiere
International Feature Competition
Balloon (China)
Dir. Pema Tseden
US premiere
Clemency (USA)
Dir. Chinonye Chukwu

Corpus Christi (Poland, pictured)
Dir. Jan Komasa
US premiere
The Fever (Brazil)
Dir. Maya Da Rin
US premiere
Fire Will Come (Spain-France-Luxembourg)
Dir. Oliver Laxe

A Girl Missing (Japan)
Dir. Koji Fukada
Gloria Mundi (France)
Dir. Robert Guédiguian
North American premiere
Lara (Germany)
Dir. Jan-Ole Gerster
North American premiere
La Llorona (Guatemala)
Dir. Jayro Bustamante
US premiere
Mayor Of Rione Sanita (Italy)
Dir. Mario Martone
North American premiere
The Painted Bird (Czech Republic-Ukraine-Slovak Republic)
Dir. Václav Marhoul
US premiere
Portrait Of A Lady On Fire (France)
Dir. Céline Sciamma
The Sleepwalkers (Argentina)
Dir. Paula Hernández
US premiere
Sorry We Missed You (UK-France-Belgium)
Dir. Ken Loach
Spider (Chile-Argentina-Brazil)
Dir. Andrés Wood
US premiere
Vitalina Varela (Portugal)
Dir. Pedro Costa
International Documentary Competition
The Cordillera Of Dreams (Chile)
Dir. Patricio Guzmán
US premiere
Digitalkarma (Switzerland)
Dirs. Francesca Scalisi, Mark Olexa
North American premiere
The Hypnotist (Finland)
Dir. Arthur Franck
US premiere
Forman vs. Forman (Czech Republic)
Dirs. Jakub Hejna, Helena Trestíková
North American premiere
MOTHER (Thailand-Belgium)
Dir. Kristof Bilsen
North American premiere
My Father And Me (UK)
Dir. Nick Broomfield
Love Child (Denmark)
Dir. Eva Mulvad
US premiere
Ringside (US-Germany)
Dir. Andre Hörmann
North American premiere
Waiting For The Carnival (Brazil)
Dir. Marcelo Gomes
North American premiere
The 55th Chicago International Film Festival will feature more than 150 films. Programmes include Black Perspectives, Cinemas Of The Americas, International Comedy, Women In Cinema, Out-Look, After Dark, and the City & State section showcasing films made in Chicago and throughout Illinois.